Mauritanian forces repel militants from army base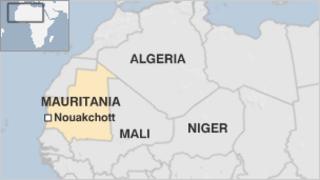 Mauritanian forces have clashed with militants after their army base came under attack in the south-east of the country, military sources said.
At least 10 members of al-Qaeda's North African branch were killed as troops fought back, local media reported.
Earlier the group, al-Qaeda in the Islamic Maghreb (AQIM), said it had killed 20 troops when its camp in neighbouring Mali was raided in June.
At the time, the military said only two troops were killed.
'Many vehicles'
In the latest incident, AQIM fighters raided an army camp near Bassiknou, close to the border with Mali, a military source told AFP news agency.
"Many terrorist vehicles took part in the attack. The national army followed them and took the initiative against them," the source said.
The source added that military aircraft had been used to fight the assailants.
"There was lots of automatic weapons fire and we heard heavy weapons fire for about an hour," resident Cheikhna Ould Deddah Bouya told Reuters. "Two military aircraft flew over the area and the shooting stopped."
Four soldiers were wounded, according to a medical source cited by AFP.
AQIM issued a statement to the private Nouakchott news agency, saying "25 vehicles took part in the operation... The operation was well prepared and carried out with top mujahideen leaders."
Conflicting claims
Last month, the Mauritanian army said an operation with Malian forces against the Islamists in Wagadou forest region in western Mali had left 15 AQIM members and two soldiers dead.
But on Monday, AQIM denied Mauritania's version of events, saying it had killed 20 soldiers and destroyed 12 vehicles.
The claims of either side cannot be independently verified.
Governments in the region have been on high alert since the death of al-Qaeda leader Osama Bin Laden in Pakistan in May, amid concern that affiliated groups might attempt a revenge attack.
AQIM, which emerged from Islamist groups fighting in Algeria in the 1990s, has staged numerous attacks in the region.
It is currently holding four French citizens kidnapped in Niger in September 2010, as well as an Italian woman taken hostage in Algeria in February.
It demands that France withdraw his troops from Afghanistan as a condition for their release.