Boat sinks off Sudan 'killing 197 migrants'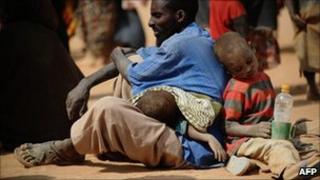 About 200 people drowned in the Red Sea when a boat carrying migrants to Saudi Arabia sank off Sudan's coast after catching fire, Sudanese media says.
Only three people have been rescued, according to the Sudanese Media Centre (SMC), a state-linked news agency.
A governing party official told the BBC he believed the passengers were Somalis likely to be fleeing the drought.
The Red Sea is a well-known trafficking route for migrants wanting to reach Saudi Arabia and Yemen.
Arrested
The boat had set sail from Sudan's Red Sea State, about 150km (about 90 miles) south of Port Sudan, near the border with Eritrea.
A senior official at Sudan's Ministry of Information, Rabbie Abdellatti, told the BBC he believed that most or all of those on board were Somalis.
Mr Abdellatti linked the case to the food crisis in the Horn of Africa, which is affecting an estimated 12 million people
It is the worst drought in 60 years. Its effects have been compounded by the violence in Somalia, which has been racked by constant war for more than 20 years - its last functioning national government was toppled in 1991.
On Wednesday, the UN refugee agency said it estimated that a quarter of Somalis are either displaced within the country or living outside as refugees.
Four Yemenis who allegedly owned the boat that sank in the Red Sea have been arrested in Port Sudan state, the SMC reports.
The vessel had been at sea for four hours before catching fire - it is not known what caused the blaze.
Local authorities had foiled an attempt to smuggle 247 other people from Somalia, Chad, Nigeria and Eritrea across the sea, the SMC said.
The BBC's James Copnall in Sudan's capital, Khartoum, says thousands of migrants cross the Red Sea every year, but the journey is a dangerous one.
Smugglers often use boats that are not seaworthy.
Muslim migrants from around the region often attempt to make their way into Saudi Arabia, where it is relatively easy to find work, our reporter says.
Christian migrants from Eritrea tend to make their way overland to Egypt and Israel, and then sometimes on to Europe.