Cameroon petrol smugglers die in Dembo explosion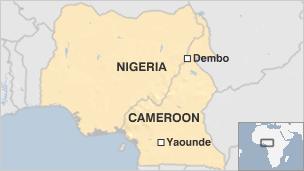 Six petrol smugglers in Cameroon have died after a truck loaded with illegal fuel exploded in the northern town of Dembo, which borders Nigeria.
The fire happened at 2200 local time (2100 GMT) just after the vehicle had crossed over the border.
An eyewitness told the BBC he had seen the charred remains of six bodies, including the driver.
Nigeria's government heavily subsidises fuel, making it profitable for smugglers to take it into Cameroon.
It is not clear what caused the explosion, but such accidents are not uncommon.
Last month, Cameroon banned all night-time public transport on roads that are often not tarred to curb accidents caused by heavy drinking.
The BBC's Randy Joe Sa'ah in the capital, Yaounde, says Nigerian fuel, popularly known as "zoa-zoa", is sold everywhere across the northern region of the country.
It is cheaper and more readily available in the regional capital Garoua than legal fuel refined in southern Cameroon, he says.
The illegal trade is flourishing and attracts many of the region's unemployed young people, our reporter says.
Haman Oumar, the government officer in charge of the north's commerce, says many children drop out of school to go into the business.
Our reporter says some young people travel across the border on their bicycles to collect canisters of petrol.
The District Officer for Benue, Zang III, says the incident in Dembo, 35km (about 20 miles) north-west of Garoua, clearly illustrates why the war against fuel smuggling must be won.
He launched a campaign to stop the trade last November.
But the smugglers say the government relies on the illicit business for income because custom duties are still paid on the imports, even though they are illegal.
Related Internet Links
The BBC is not responsible for the content of external sites.