Libya: Air raid on Gaddafi military camp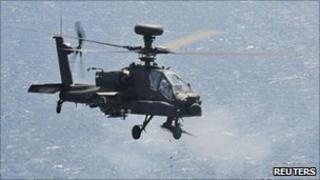 British Apache helicopters targeted a military base being used by Libyan leader Muammar Gaddafi's forces, the Ministry of Defence (MoD) said.
The raid, on Friday night, targeted the al Mayah military camp, near Az Zawiyah, west of the Libyan capital Tripoli.
It came as Col Gaddafi threatened to carry out attacks against civilians in Europe unless Nato halts airstrikes.
Nato is enforcing a UN resolution to protect civilians from Gaddafi forces.
In a statement, the Nato-led international coalition said its forces had destroyed more than 50 military targets in the west of Libya this week.
MoD spokesman Major General Nick Pope said Apaches from the Army Air Corps were used in the latest raid.
'Terrorising locals'
"The camp has been used by regime forces as a base from which to terrorise the local population," said Maj Gen Pope.
"In a single mission before midnight, UK Apaches used Hellfire missiles and cannons to destroy or disable a command and control vehicle, a bunker firing position and three main battle tanks."
It followed raids on Thursday night in which RAF Typhoon and Tornado aircraft destroyed ammunition storage facilities near the central Libyan town of Waddan.
They also hit a militarised 4x4 in the al Khums area, near Tripoli.
On Friday, Col Gaddafi threatened to attack Europe in revenge for Nato's operations in Libya.
'Like locusts'
He said Libya would target European "homes, offices, families" unless Nato stopped its campaign.
He spoke via an audio message broadcast to tens of thousands of supporters gathered in a central Tripoli square.
"We can decide to treat you in a similar way. If we decide to, we are able to move to Europe like locusts, like bees," Col Gaddafi said.
"We advise you to retreat before you are dealt a disaster."
US Secretary of State Hillary Clinton has urged the Libyan leader to resign.
"Gaddafi should put the well-being and the interests of his own people first and he should step down from power," Mrs Clinton said in Spain.