South Sudan's 'White House' - a house of horrors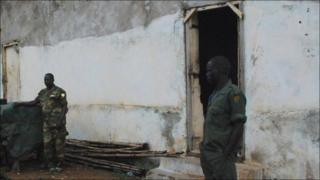 Down steep steps underground and into the dark, the air is thick, smoky and hot in this bunker in soon-to-be independent South Sudan.
A pair of handcuffs dangle from a metal girder on the blacked ceiling: A grim reminder of the torture that once went on here.
For South Sudan, already struggling to contain violence, this place offers the starkest of warnings that the future must not be like the past.
"Is this nation going to be an inclusive nation?" asked Jok Madut Jok, a southern academic and history professor at Loyola Marymount University in California, speaking in a recent public lecture.
"Or is it going to exercise the double standard that other countries have gone in for - that you become independent, and then go ahead and do the exact things that you had rebelled against?" said Mr Jok, who is also a senior official in the culture ministry.
There are few places in South Sudan's capital Juba that evoke as much terror as the building known as the "White House".
During Sudan's 1983-2005 war, it earned a reputation as the Khartoum government's main torture and execution site in the south, for those it believed supported rebel forces.
Greasy soot coats the concrete walls and an empty ammunition shell rusts on the ground.
A bare bulb throws shadows into gloomy corners.
"I doubt if any other journalist has ever been down here before," a government security official says quietly.
"If they did, they didn't come out alive," his companion replies.
An estimated 1.5 million died in the war, a conflict fought over ideology, ethnicity, religion, resources and oil.
Southern rebels battled against what they said was marginalisation and the concentration of power by an elitist government in the north.
'Increasingly autocratic'
Now those fighters have become the official army of the south, which will become a separate nation on 9 July, splitting Africa's largest nation in two.
But such buildings as the White House do not just hold dark memories of Sudan's bloody past.
People say they also provide a message for the future: That the regime which used violence against its own people in the old unified Sudan has to remain in the past, and must not be taken forward into the new, separate south.
"That was the place of our nightmares - if you heard someone was taken there, you had said goodbye to them already - they were not coming back," said college student Mabil William.
His father was never seen after his arrest in the war, and is believed to have died in the White House.
"When I voted for separation, to say bye-bye to Khartoum, it was places like that we were waving an end to."
But while the hopes for change are high, the challenges are great.
The south's Sudan People's Liberation Army (SPLA) has a far from perfect record.
Its shift from rebel to regular army has provoked accusations of massacres and rape, according to human rights campaign groups.
"Reports of looting, harassment of civilians and even extrajudicial killings give cause for great concern," a recent joint report of a coalition of international and Sudanese campaign groups read.
It warned of an "increasingly autocratic government" in the south, with power and money concentrated in Juba, and security taking the largest share of the budget.
The SPLA has been battling at least seven militia groups this year alone: The United Nations say both sides have targeted civilians.
More than 1,800 people have died in violence this year, the UN estimates.
The southern government has repeatedly insisted it is working for a better future, and says that while mistakes have been made, the transition from guerrilla movement to government is not an easy one.
"South Sudan will respect the rights of all people living in its territory from diverse ethnic, cultural, linguistic, religious and racial backgrounds," an official government statement released ahead of its independence read, vowing to follow the Universal Declaration of Human Rights.
Graveyard
Once the euphoric celebrations of independence are over, ensuring the promises to protect rights are kept will require the future work of a courageous and dynamic media and civil society.
The northern troops have left the White House, but the area around it is still an active army barracks - now run by the SPLA.
The actual building that gave the complex its name is a short walk from the dungeon: Prisoners would be dragged out to the site where executions were carried out, soldiers say.
The simple, white painted building is now used as a store and dormitory.
Major General Marial Chanoung, the commander in charge of the base, says no-one can say for sure how many thousands of southerners died here.
"There was torture. It is a place known to have killed a lot of our people," he said.
Around the building is a lumpy field of lush green grass: Red skull and cross-bone signs warn of the risk of landmines or unexploded ammunition.
Soldiers say in the dry season bones can be seen poking out from mass graves.
"It should be called the 'Red House', for the blood, not a White House," said another security officer.
But Maj Gen Chanoung is clear that such acts must not be repeated.
"There must be no more White Houses in the south, never again," he said.
"The south will be a free country, where justice, freedom is everywhere."
Both Sudan and the South are reliant on their oil revenues, which account for 98% of South Sudan's budget. But the two countries cannot agree how to divide the oil wealth of the former united state. Some 75% of the oil lies in the South but all the pipelines run north. It is feared that disputes over oil could lead the two neighbours to return to war.
Although they were united for many years, the two Sudans were always very different. The great divide is visible even from space, as this Nasa satellite image shows. The northern states are a blanket of desert, broken only by the fertile Nile corridor. South Sudan is covered by green swathes of grassland, swamps and tropical forest.
Sudan's arid north is mainly home to Arabic-speaking Muslims. But in South Sudan there is no dominant culture. The Dinkas and the Nuers are the largest of more than 200 ethnic groups, each with its own languages and traditional beliefs, alongside Christianity and Islam.
The health inequalities in Sudan are illustrated by infant mortality rates. In South Sudan, one in 10 children die before their first birthday. Whereas in the more developed northern states, such as Gezira and White Nile, half of those children would be expected to survive.
The gulf in water resources between north and south is stark. In Khartoum, River Nile, and Gezira states, two-thirds of people have access to piped drinking water and pit latrines. In the south, boreholes and unprotected wells are the main drinking sources. More than 80% of southerners have no toilet facilities whatsoever.
Throughout the two Sudans, access to primary school education is strongly linked to household earnings. In the poorest parts of the south, less than 1% of children finish primary school. Whereas in the wealthier north, up to 50% of children complete primary level education.
Conflict and poverty are the main causes of food insecurity in both countries. In Sudan, many of the residents of war-affected Darfur and the border states of Blue Nile and South Kordofan, depend on food aid. The UN said about 2.8m people in South Sudan would require food aid in 2013. The northern states tend to be wealthier, more urbanised and less reliant on agriculture.