Why South African convict fears release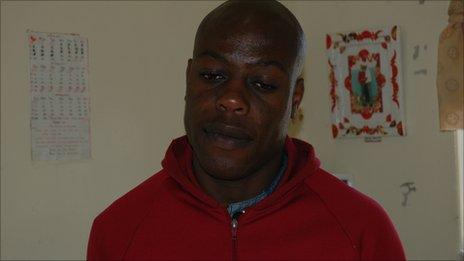 Some 80% of South African convicts commit further offences after leaving prison - a figure the authorities are trying to reduce. Musa Ngwanyila, 21, is due to be freed on Friday after spending two years in prison for stealing cars. He tells the BBC's Pumza Fihlani he is determined to avoid being sucked back into a life of crime.
When you grow up in the township you become involved in all kinds of things. You see young guys driving fast cars and also want that for yourself.
Crime is a normal part of life in many townships, I suppose that's why I was convinced that I'd never get caught. I knew too many people who had been criminals for years and they had never been arrested.
We didn't have much at home [in Pretoria's Shoshanguve township] and I knew I didn't want to stay poor; I wanted to have money and nice clothes like guys my age.
I joined a gang when I was 18 years old, we specialised in house breaking and stealing cars. I made money and could buy whatever I wanted - it felt good.
In my eyes there was no such thing as consequences - I was so wrong.
I remember sitting in the courtroom two years ago waiting to hear what the magistrate was going to say: "Guilty," he said - I went numb.
I was sentenced to four years; my lawyer said I got a lesser sentence because of my age, it still seemed like a lifetime to me.
Once you enter prison you never live your own life. You live under someone's rules, you lose all sense of who you are, you become just another prisoner waiting to be told what to do, when and how to do it.
I've been seeing social workers to help me to cope with this environment.
The first few months were the hardest. No-one cares about you in here, everyone has their own problems - I was alone for the first time in my life. It was a very painful feeling.
I don't think I would have survived without my family, my grandmother kept me holding on.
She would always say: "You can either make your life better or you can make it worse while you're in here." That haunted me, it still does.
I know how much I have disappointed them and I can't believe they didn't give up on me.
It's strange that it took me coming to prison to appreciate how important family is.
I've been staying out of trouble because if you misbehave in here you can end up staying longer than you have to.
I have taken part in as many programmes as I could just to keep busy, from life-skills training to anger-management classes and HIV and substance abuse courses.
It's like time stands still when you are in here, you have to keep busy or you'll lose your mind.
Some people leave prison worse than they were when they got in - I think I'm better than I could have ever been.
I'm sure I would have done much worse if I had not been arrested, who knows where I would have ended up.
I keep a calendar in my cell and I've been counting down the days to my release. It feels unreal.
A part of me is worried though. Yes I have changed but nothing else has changed.
My family is still poor, many people in my community still don't have jobs - it is easy get tempted into crime.
My gang is still there and I don't know how I am going to stay away from them. I don't want that life anymore; I know I have to cut them out of my life.
I want to get a job as a panel beater and fix people's cars. I think a job will keep me out of trouble but I'm not sure if I will get hired.
How many people hire people with criminal records?
I have to work harder than I've ever worked to get people to trust me and I am prepared to do that.
All I need is just one chance to prove that I want a better life for myself and I want to do it right this time.
Related Internet Links
The BBC is not responsible for the content of external sites.