Illegal Ugandan couples asked to remarry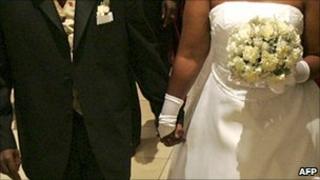 Ugandan Evangelical pastors have called on thousands of couples they have illegally married to take their vows again.
Last week, the government said weddings conducted by churches not registered with the state were "null and void".
The BBC's Joshua Mmali in Uganda says many thousands of churches across the country are not registered.
At an emergency meeting, the churches met to get legal advice, but argued their weddings were legal before god.
'Preserve of the church'
Pastor Joseph Serwadda, chairman of the Born Again Pentecostal churches in Uganda and convenor of the meeting which brought together the different Evangelical churches, said that spiritually the marriages stand.
"There is nothing like null and void - they are only null and void as far as the law is concerned, but as far as the Bible is concerned the marriages happened," he told the BBC's Focus on Africa programme.
"Marriage is a preserve of the church - we are the people that turn two into one," he said.
According to Juliet Luggya, a state registrar for marriages, there are only about 2,000 churches registered across the country.
She advised couples to come forward to take their vows again in a licensed place of worship.
"Marriage is a state function because it affects not only the couple, it affects the children they give birth to, it affects the property that they acquire, it affects all those that depend on them," she told the BBC.
Bishop Grabe Illukol from Tororo, in eastern Uganda, told the BBC he had conducted more than 604 marriages in his four decades in the church.
"We gave them church certificates at that time, [but] I'm going to invite them all to come… to give them a new certificate."
He added that he regretted that some of the couples will now have died.
Our reporter says it is impossible to know how many people are living in illegal wedlock in Uganda.