Nigeria profile - Media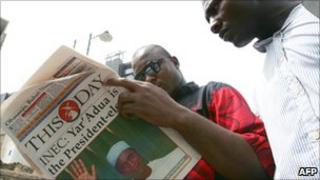 Nigeria's media scene is one of the liveliest in Africa. State radio and TV operate at federal and regional levels. All 36 states run at least one radio network and a TV station.
There are hundreds of radio stations and terrestrial TV networks, as well as cable and direct-to-home satellite offerings.
Radio is a key source of information. International broadcasters, including the BBC, are popular. However, rebroadcasts of foreign radios are banned.
State TV says it reaches tens of millions of viewers, while the main privately-owned networks are market leaders in some cities.
There are more than 100 national and local press titles, some of them state-owned. They include well-respected dailies, tabloids and publications which champion ethnic interests.
Reporters Without Borders (RSF) says journalists are often threatened, subjected to physical violence, or denied access to information by officials and police. Boko Haram, a militant Islamist group, has threatened the media.
By 2016, 86 million Nigerians were online (Internetlivestats.com). Mobile phones are often used to access the web. Most internet users are young, educated and urban.
Facebook is the most popular social media platform; by 2015 at least 7.1 million people were using it daily. BBC Hausa's Facebook page is a popular destination.
Press
Television
Radio
News agency