Rwanda Nyamwasa trial: Not guilty plea over SA shooting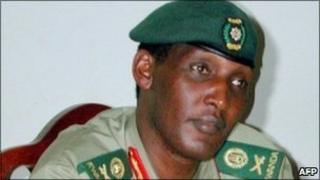 Three Rwandans and three Tanzanians accused of attempting to murder a Rwandan ex-army chief have pleaded not guilty at their trial in South Africa.
Faustin Kayumba Nyamwasa fled to South Africa last year after falling out with Rwanda's President Paul Kagame.
Six months later he was shot as he was being driven back to his home in Johannesburg, but survived the attack.
The prosecution alleges the ringleader of the plot tried to bribe police with $1m (£625,000) to avoid arrest.
The Rwandan authorities have denied any involvement in the case, but the BBC's Karen Allen says the affair has proved highly political.
Since the ambush last June, there has been as cooling off of diplomatic ties between Rwanda and South Africa, she says.
Protective custody
The prosecution alleges that at least one of the men in the dock is known to Lt-Gen Nyamwasa, who was not present in court.
They single out his driver, Richard Bachisha, who the former head of the armed forces had worked with in Rwanda and who then became his chauffeur in South Africa.
He was driving the vehicle at the time of the attack last June.
It is also alleged that Rwandan businessman, Pascal Kanyandekwe, who it is claimed was the ringleader of the assassination plot, tried to bribe South African police as they tried to arrest him near Johannesburg's Oliver Tambo airport last July.
State prosecutor Shaun Abrahams said that the witnesses testifying against the six men had been placed under protective custody out of "fear" of the Rwanda government.
The presence of Lt-Gen Nyamwasa in South Africa is controversial, our correspondent says.
Earlier this month, South African human rights groups launched legal action to force the government to revoke Lt-Gen Nyamwasa's refugee status.
He is also wanted by Spain and France for his alleged role in killings in the lead-up to Rwanda's 100-day genocide in 1994.
The Rwandans accuse him of undermining President Kagame and have linked him to a series of grenade attacks in Rwanda's capital, Kigali.
The government has been pushing South Africa to extradite him to serve a 24-year prison sentence after a military court in January tried him in absentia on charges of threatening state security, desertion and defamation.
Some 800,000 ethnic Tutsis and moderate Hutus were killed in Rwanda's genocide.
Mr Kagame led the Rwandan Patriotic Front (RPF) rebel movement which put a stop to the killings - and has been president since 2000.
After the genocide, he promised peace and democracy, but critics say he now runs a repressive regime.