Niger profile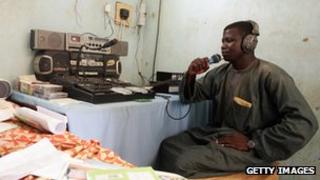 The state controls much of the nation's broadcasting, though private radio stations have proliferated.
Radio is a key news source. Literacy levels are low. There is a government-run daily, as well as a handful of private titles.
Press freedom "improved considerably" after Mamadou Tandja was ousted as president in 2010, according to Reporters Without Borders. Media offences were decriminalised shortly afterwards.
Radio France Internationale is on FM in Niamey, and in Maradi and Zinder provinces. BBC World Service broadcasts in the capital (100.4 FM).
There were nearly 129,000 internet users by December 2011 (Internetworldstats). There are no official restrictions on internet access.
Press
Television
Tele-Sahel - state-run
Dounia TV - private, Niamey
Tenere TV - private, Niamey
Radio
La Voix du Sahel - state-run, sole national station; broadcasts in French, Arabic, Hausa and vernacular languages
Radio Saraounia - private
Anfani FM - private
R&M (Radio et Musique) - private
Tenere FM - private