Senegal: Buildings torched in power cut riots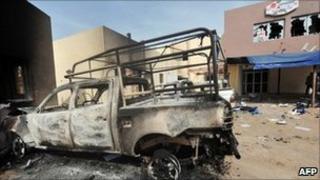 Protests have broken out in the Senegalese capital Dakar and in the southern city of Mbour over continuing power shortages.
In Dakar, several government buildings were set on fire including the offices of the state electricity firm, Senelec.
Security forces in Mbour fired tear gas to disperse thousands of demonstrators.
The trouble over power cuts, which have lasted 48 hours in some areas, come just a week after rioting against the president.
"Hundreds of young people ransacked the Senelec office and burned it," Dakar resident Ismail Diop told Reuters news agency.
Broken bottles, scattered debris and burning tyres littered the streets, witnesses said.
In Mbour, about 80km (50 miles) south-east of Dakar, electricity company premises were also a target. Witnesses said the Senelec offices there were wrecked and cars outside attacked.
Senelec has been unable to satisfy demand for electricity for years.
Surprise
Just last week there were riots in Dakar, triggered by a proposal from President Abdoulaye Wade to change the constitution.
They were the most serious protests of Mr Wade's 11-year rule.
He had wanted to reduce the percentage of votes needed to win a presidential election - and avoid a run-off - from more than 50% down to a 25% threshold.
Critics said the amendment was designed to ensure that President Wade, 85, would be re-elected next year against a fractured opposition.
Mr Wade came to power in democratic elections, but he now faces growing anger at daily power cuts and the rising cost of living.
"We are demonstrating because we cannot bear it anymore. We are spending full days without power," a woman demonstrating in Dakar on Monday told the BBC's French Service.
"When we demonstrated, the president withdrew his reform - so now we are going to protest for his resignation and that of his government."
The BBC's Samba Dialimpa Badji in Dakar says Monday's demonstrations came as a surprise to many people.
Unlike last week's protests, which had civil society and opposition backing, the riots on Monday were spontaneous, he says.
They started in one district of the capital after a long power cut, when news of this was broadcast on the radio the trouble spread to other areas of Dakar and to Mbour.
The protests started at about 1600 GMT and lasted until about midnight.
Young men erected barricades on the many roads, burning tyres, as well as setting alight buildings, our reporter says.
The power failures are having a big impact on people's lives, he says.
Businesses are also affected and offices without generators often do not open because of the cuts.