Zambia's former President Frederick Chiluba buried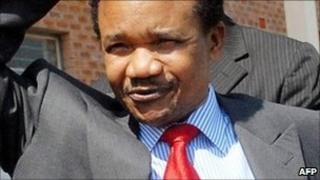 Zambia's former President Frederick Chiluba has been buried in the capital, Lusaka, following his death more than week ago.
Several hundred mourners, led by President Rupiah Banda, attended the funeral.
Mr Chiluba died at his home last weekend - the cause of death has not been made public.
He led Zambia to multi-party democracy in 1991, but his presidency was dogged by allegations of corruption.
The BBC's Mutuna Chanda in Lusaka says many Zambians believe Mr Chiluba's flaws should be overlooked and he should be remembered for ending one-party rule.
He was buried alongside ex-President Levy Mwanawasa, at a cemetery reserved for former presidents.
Mr Mwanawasa, who was Mr Chiluba's successor, died in 2008.
Thousands of people watched Mr Chiluba's funeral on state television and on giant screens across the country.
The main foreign dignitaries at the funeral were the Democratic Republic of Congo's President Joseph Kabila and Zimbabwe's Prime Minister Morgan Tsvangirai.
Fraud conviction
Mr Chiluba led protests which forced former President Kenneth Kaunda to end one-party rule and then defeated Mr Kaunda in 1991 elections.
He also opened up Zambia to foreign investors.
But he was mired in corruption scandals and was accused of taking an authoritarian approach to his political opponents, firing critical colleagues and jailing outspoken journalists.
He attempted to alter the constitution so he could run for a third term in office in 2001, but stood down after huge public protests.
Mr Chiluba was prosecuted for alleged embezzlement in 2002 but acquitted after a six-year trial.
In 2007, he was convicted of fraud by a London court and ordered to repay $58m (£36m) in embezzled funds, but the ruling was never enforced in Zambia.
He spent his final years at his residence in Lusaka, confined by ill health and the confiscation of his passport by the authorities.