Besieged Misrata: 100 days of bombing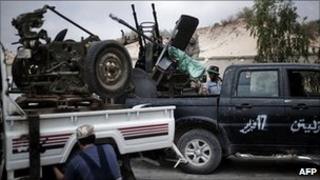 A dozen fighters have gathered in the sand dunes west of Misrata.
There's a small campfire battling a stiff sea breeze, several homemade tents, a trench, and the usual assortment of machine gun placements and rocket launchers aimed across no-man's land towards Col Muammar Gaddafi's forces.
"Your energy and courage inspire," says Gen Suleiman Mahmoud in a brief speech to the group.
He's come here from Benghazi on a morale-boosting, fact-finding tour of the front lines around this besieged city.
In recent days Nato has intensified its efforts here, with warships firing at Col Gaddafi positions just along the coast, and Apache helicopters targeting heavy weapons near the town of Zlitan.
But the front lines around Misrata have barely moved in weeks.
"You are making history here. If Misrata falls, Libya will be divided. We are behind you and united," says the general.
Then it's the fighters' turn to speak.
"We need more weapons, more ammunition."
"We need cars. Ours are in very bad shape."
"And we need binoculars."
All this comes out in a torrent from several men speaking at once.
They've been stuck out here in the dunes for more than a month now, under almost daily rocket and artillery bombardment. Frustration is evidently growing.
The general strokes his neatly clipped, grey moustache, and promises to take their demands back to Benghazi.
Gen Suleiman Mahmoud is a well-known figure here - one of the earliest senior defectors from Col Gaddafi's armed forces.
"I know him well," he says of his former boss.
"He is a weak, crazy man… he must say 'goodbye my people, I need to go,' but he won't do it.
"He won't [commit] suicide. If we don't kill him and bomb him he will not do it."
Later, after his front line tour, I ask Gen Mahmoud for his impression of the rebels' capabilities.
There's a long pause. "Well, they're inexperienced," he says finally.
'Not enough' bombing
"They are volunteers not soldiers. But they have heart, and morale, and this is what matters."
As for Nato's performance: "They did their best in the last few days," he says.
"But we need more. And more, and more. We can do our best but we need support from friends."
The current Nato campaign is "not enough".
It's a familiar complaint here.
At the Hekma hospital in Misrata, a 19-year-old fighter is being rushed into surgery.
Moftah Ellibdy had been begging his older brother, Heithim, to let him fight. This was his first day on the front line.
"They're going to amputate his leg. He's fighting for what? He's fighting because he wants his freedom. That's all," says Heithim.
"There are lots of injured people. God is great - that's all I can say."
Optimism in Zlitan
The next day, Moftah is sitting up in bed, surrounded by visiting friends.
"Of course I'm sad to lose my leg," he says.
"But this is a price we are all paying.
"I'm confused about Nato. Some days they help us a lot. But some days not at all."
But a rebel fighter in nearby Zlitan paints a more optimistic picture.
I've been speaking to him by telephone most nights for the past week.
He says the town remains firmly under Col Gaddafi's control, but he's encouraged by Nato's recent air strikes.
His colleagues have been sending the coordinates of military operation centres there to Nato, via the Transitional National Council in Benghazi. But he's frustrated that Nato has yet to attack those particular sites.
Nato has "started working properly," he says.
"If they continue like these days for three or four days more, they will be working as we need.
"After three or four days, the rebels from Misrata can enter Zlitan."