Jameson Timba, Zimbabwe minister, ordered free by court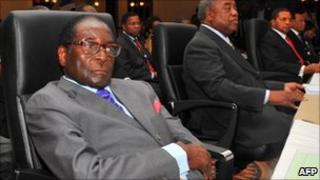 A Zimbabwe court has ordered the release of a government minister who reportedly called President Robert Mugabe a liar.
Jameson Timba, an ally of Prime Minister Morgan Tsvangirai, was arrested on Friday.
Under Zimbabwean law it is a criminal offence to insult the president.
Mr Timba had been quoted by South Africa's Sunday Times newspaper, under the headline "Mugabe a liar", disputing Zanu-PF's account of a regional summit.
He reportedly contradicted Mr Mugabe's claim that regional leaders had withdrawn a damning report on the slow pace of reforms and renewed political violence in Zimbabwe.
'Denied food'
Mr Timba's release was ordered on Sunday during a special hearing of the Harare High Court.
"There was a violation of his rights," Judge Joseph Musakwa was quoted by AFP news agency as saying.
"He was not informed of the charges he was facing."
Mr Timba's lawyers say he has been denied food and access to his legal team in jail.
Mr Tsvangirai's Movement for Democratic Change (MDC) and Mr Mugabe's Zanu-PF have had a fractious relationship since forming a unity government after disputed elections in 2008.
Mr Mugabe and his party have been pushing for polls this year, but the MDC argues that without a new constitution and electoral reforms, elections would not be free and fair.