Somalia: 'Foreign air raid' targets Kismayo's al-Shabab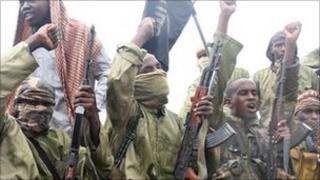 Somali Islamist militants have come under attack by two foreign helicopters near Kismayo, their spokesman says.
Hassan Yacqub said two patrolling al-Shabab fighters were wounded in the raid on Thursday evening in Qandal on the outskirts of the port city.
He said the fighters fired back at what were either US or French helicopters.
Kismayo is a stronghold of the al-Shabab Islamist group, which has links to al-Qaeda, and controls large parts of southern and central Somalia.
Residents told the BBC that there was a large al-Shabab training camp in the area of Qandal, about 10km (six miles) south of Kismayo.
They said foreigners were known to be among the recruits.
Analysts say al-Qaeda-linked Islamist militants pose the biggest threat to the weak interim government.
There have been US air strikes on al-Shabab in the past, and a US special operations team killed Saleh Ali Saleh Nabhan, one of the most senior leaders of al-Qaeda's East Africa cell, inside Somalia in 2009.
The US and France both have a military base in neighbouring Djibouti.
The Somali government, backed by African Union troops, only controls parts of the capital, Mogadishu, about 500km north of Kismayo.
Somalia has been without an effective central government since the fall of Siad Bare in 1991, as rival factions constantly fight for power.