Indian sailors freed by Somali pirates welcomed home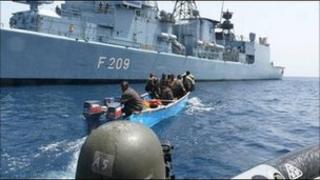 Six Indian sailors, who were recently freed by Somali pirates after nearly 11 months in captivity, have returned home to joyous celebrations.
Family members greeted the sailors with sweets and marigold garlands at the international airport in Delhi.
The men were part of the 22-member crew of the Panama-flagged MV Suez cargo ship. The vessel was hijacked on 2 August last year.
The hostages were released after $2.1m (£1.3m) was paid in ransom.
The crew included four Pakistanis, 11 Egyptians and a Sri Lankan.
The negotiations with the pirates were carried out by Ansar Burney, a Pakistani human rights activist.
Mr Burney raised the ransom money through a fund-raising campaign.
The sailors arrived in the Pakistani city of Karachi on Thursday from where they were flown to Delhi on Friday morning.
'Lost hope'
The sailors said the pirates kept them in chains, often without food or water and treated them "like animals".
"We were in darkness, we were starving," news agency AFP quoted sailor NK Sharma as saying.
"We got just two meals a day. Sometimes we got water and sometimes not even that," he said.
"There were moments when we lost all hope. Whatever Pakistan has done is praiseworthy. They came forward to our help and did not care about nationalities," Mr Sharma added.
Another sailor Prashant Chauhan said they were routinely beaten and poorly fed.
"We were chained and treated like animals," AFP quoted Mr Chauhan as saying.
"They gave us just boiled rice to eat and sometimes we also got some spaghetti. It was worse than hell. They would drink and beat us with whatever they got hold of."
The family members of the sailors criticised the Indian government for doing little to secure their release.
Shamsher Singh, father of sailor Satnam Singh, was quoted by news agency Press Trust of India as saying that he had lost hope for the return of his son.
"I had lost hope completely. But after I spoke to Ansar Burney in April, my hope was rekindled," he said.
Meanwhile, India's Foreign Minister SM Krishna thanked Pakistan for its help in securing the release of the Indian sailors.
"We are relieved that their ordeal has ended," he said in a statement.
"We appreciate the timely help extended to them and sailors of other countries, by the Pakistani navy."
Mr Krishna said a well-coordinated global response was necessary to curb piracy.
MV Suez came under small arms fire while sailing in a recommended shipping lane in the Gulf of Aden last August.
In recent years, Somali pirates have extended their reach further from the shores of East Africa and carried out hundreds of hijackings.
Somalia has had no functioning central government since 1991, allowing piracy to flourish off its coast.
Warships from around the world are patrolling the Indian Ocean in a bid to deter pirate attacks.
In February, a group of 28 suspected Somali pirates captured in the Indian Ocean were handed over to the Indian police.