Somalia: Abdiweli Mohamed Ali appointed prime minister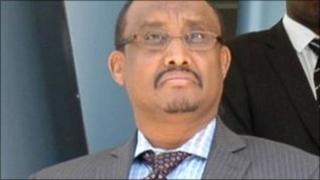 US-trained economist Abdiweli Mohamed Ali has been named as Somalia's new prime minister.
His predecessor was sacked as part of a UN deal to end squabbling in the interim government, whose mandate was extended as part of the agreement.
But protests erupted in the capital, Mogadishu, last week at the decision to oust Mohamed Abdullahi Mohamed.
The government, backed by African Union troops, is battling Islamist militants and only controls parts of Mogadishu.
Somalia has been without an effective central government since the fall of Siad Bare in 1991, as rival factions constantly fight for power.
"Somalia is in a difficult situation, there is an economic crisis and insecurity," Reuters news agency quotes the new prime minister as saying.
"I hope I will succeed in overcoming all these problems. I urge the entire government and Somalis to help me achieve this," said Mr Ali, who previously served as planning minister.
Under the deal signed in Uganda earlier this month, the mandates of President Sheikh Sharif Ahmed, speaker Sharif Hassan Sheikh Aden and the parliamentary deputies were extended until 20 August 2012, when new elections will be organised.
The president and the speaker had been in conflict over what would happen when the current administration's mandate runs out in August.
Mr Aden had said he could not work with the former prime minister and his departure was a condition of the deal.
Analysts say al-Qaeda-linked Islamist militants, who control large parts of southern and central Somalia, pose the biggest threat to the government.
Foreign donors have been pushing the rival factions to resolve their differences, and focus on defeating the Islamist threat.