DR Congo mass rape: Ex-rebels accused in Fizi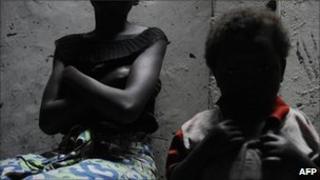 Aid workers are investigating reports that at least 60 women have been raped near the eastern Democratic Republic of Congo town of Fizi.
The mass rapes were allegedly committed by a group of ex-rebels who recently deserted the army, which they had joined under a peace deal.
Troops from the same group were recently convicted of raping at least 50 women in Fizi on New Year's Day.
A UN envoy last year called DR Congo the "rape capital of the world".
The 16 years of unrest in eastern DR Congo have become notorious for the widespread sexual abuse of women and young girls.
More than 300 women, men and children were raped by a coalition of rebel groups in the town of Luvungi and neighbouring villages in North Kivu province within miles of a UN base in August 2010.
The latest incident occurred in villages near the South Kivu town of Fizi between 10 and 12 June but it only now being reported.
Jean-Marie Ngoma, a member of the provincial parliament, told the UN-backed Radio Okapi that more than 60 women had been raped in the village of Nyakiele alone.
The attackers plundered the local health centre, stole the population's belongings and farm animals and forced the locals to carry the loot for them, he added.
Megan Hunter, from medical charity Medecins Sans Frontieres, said that a team deployed in the area's health centres in the past two days had so far treated more than 100 people who said they had suffered rape or other forms of trauma.
UN peacekeepers and several aid agencies will fly to the area on Friday to verify the number of victims, said an UN official in the provincial capital Bukavu.
Mr Ngoma told Radio Okapi that the rapes had been blamed on a group of former Pareco rebels led by Col Kifaru Niragiye, who had deserted from a military training centre near Fizi on 9 June to protest against the reorganisation of the local military command.
They then headed in the direction of the villages where the violence happened, and local administrative and civil society sources have since reported widespread looting and abuse by Col Kifaru's group, which is estimated to number between 150 and 200 men.
Col Kifaru was the military sector commander on New Year's Day, when his troops were accused of raping more than 60 women in Fizi town in his absence.
Nine of those men, including Col Kifaru's deputy Lt Col Kibibi Mutware, were later found guilty of crimes against humanity and jailed.