Mauritania profile - Media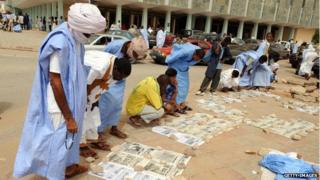 Mauritania has one of the most open media environments of the Maghreb region. Broadcasting is open to private operators and there is relatively little government interference.
Mauritania topped all other Arab states in the 2014 Press Freedom Index issued by Paris-based Reporters Without Borders.
Journalists practice some self-censorship over sensitive topics, says US-based Freedom House. The media tend not to stray far from official reports, it adds.
State institutions hold shares in Television de Mauritanie (TVM) and Radio Mauritanie. There is easy access to pan-Arab and European satellite TV.
The BBC is available on FM in the capital (106.9) and in the second city, Nouadhibou (102.4). International radios from China, France and Germany are also relayed on FM.
There are at least 30 daily or weekly publications. Newspapers suffer from limited advertising, a poor distribution network and the growth of online media.
Internet access is unrestricted. There were more than 455,000 users by 2014 (Internetlivestats.com) - around 11% of the population. Facebook's penetration rate stands at 5.3%, says a 2014 Dubai School of Government report.
Press
Television
Radio
News agencies/internet