President: Ibrahim Boubacar Keita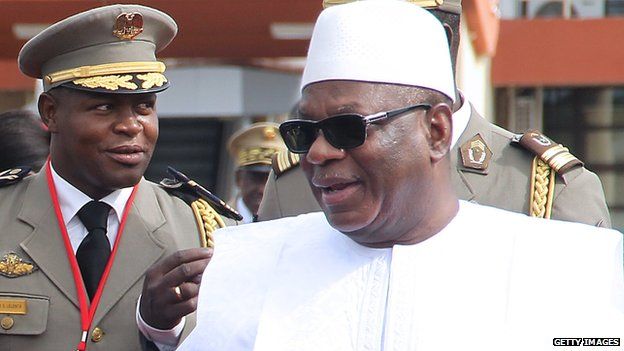 Ibrahim Boubacar Keita took office in September 2013, promising to help unify the country after a rebellion, a coup and an Islamic insurgency plunged the country into near ruin.
He won the first election held since mutinous soldiers overthrew longtime President Amadou Toumani Toure early in 2012.
Army officers angry at the level of support they had received to combat a separatist Tuareg rebellion in the north overthrew the democratically-elected government of President Amadou Toumani Toure in March 2012.
In the chaos that followed, the Tuareg seized control of the north before being ousted by Al-Qaeda-linked groups who imposed a brutal interpretation of Islamic law on the local population, carrying out amputations and executions.
Their actions drew worldwide condemnation and prompted France to launch a military offensive at Mali's behest which eventually ousted the Islamists, although groups aligned with al-Qaeda and Islamic State continue sporadic and bloody attacks on troops and tourist facilities.
The son of a civil servant, Keita was born in 1945 in the southern industrial city of Koutiala, the declining heartland of cotton production in the country.
He unsuccessfully stood for the presidency in 2002 and 2007 for his Rally for Mali (RPM) party.
He served as prime minister from 1994 to 2000 and as Speaker of the National Assembly from 2002 to 2007.