Ghana's Kufuor: 'Cocoa was key to World Food Prize'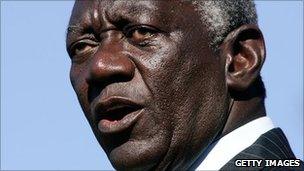 Ghana's former President John Kufuor has told the BBC a dramatic improvement in his country's cocoa industry was the key to him winning the World Food Prize.
Mr Kufuor shared the $250,000 (£155,000) prize with former Brazilian President Luiz Inacio Lula da Silva.
Mr Kufuor cut hunger levels in Ghana by half during his eight-year rule.
His government achieved this by modernising and commercialising cocoa farming, Mr Kufuor said.
Cocoa production doubled to more than 700,000 tonnes during his first three years in office.
He said his government focused on boosting agriculture because around 60% of Ghanaians lived in rural areas, and relied heavily on farming for their survival.
"We knew that if we improved agriculture, we'll be fighting unemployment and poverty," Mr Kufuor told the BBC's Network Africa programme.
He appealed to African countries to pay more attention to improving farming methods.
"Africa has 60% of the world's unfarmed arable land. We need to use science and technology to produce food competitively," he said.
Mr Kufuor also said African countries should introduce laws to penalise speculators who were responsible for causing food prices to rise.
They hoarded food, created an artificial shortage and released it on the market when prices rose, he said.
"A speculator never has an honourable motive. His motive is to maximise profits," Mr Kufuor said.
"Those who try to monopolise and corner the market should be penalised," he added.
Mr Kufuor and Mr Lula would receive the World Food Prize at a ceremony in October.
Mr Lula was awarded the prize because of his "zero hunger" programme.
It included cash aid to poor families and food purchases from small-scale farmers.
The World Food Prize was created 25 years ago by Nobel Peace Prize winner Norman Bourlag to recognise the role of national leaders in fighting hunger.
Related Internet Links
The BBC is not responsible for the content of external sites.