Libya conflict: Italy urges suspension of hostilities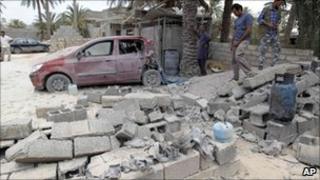 Italian Foreign Minister Franco Frattini has called for a suspension of hostilities in Libya to allow humanitarian aid to be brought to the war-torn country.
Mr Frattini also said Nato must provide data on results of its bombing campaign and guidelines on targeting errors.
Arab League Chairman Amr Moussa also urged a ceasefire on Tuesday, voicing reservations about the Nato campaign.
On Sunday a Nato missile apparently misfired striking a residential area.
The Libyan government said nine people including two young children were killed in the strike.
The alliance acknowledged that civilian casualties may have resulted from it.
Meanwhile Chinese Foreign Minister Yang Jiechi described Libya's opposition National Transitional Council as an "important dialogue partner" and an "important domestic political force".
Rebel leader Mahmoud Jibril has been holding talks with the Chinese leadership in Beijing.
Credibility 'at risk'
Speaking to the lower house of the Italian parliament, Mr Frattini called for "an immediate humanitarian suspension of hostilities" to allow an aid corridor to be set up.
"With regard to Nato, it is fair to ask for increasingly detailed information on results as well as precise guidelines on the dramatic errors involving civilians," he added.
But the French foreign ministry said Paris was against any pause.
Such a move "would allow [Libyan leader] Muammar Gaddafi to gain time and reorganise", said spokesman Bernard Valero, quoted by AFP news agency.
"In the end, it would be the civilian population that would suffer from the smallest sign of weakness on our behalf."
On Monday Mr Frattini said Nato's credibility was "at risk" after the residential area strike.
Amr Moussa also cast doubt on Nato's efficacy in an interview for The Guardian newspaper.
"When I see children being killed, I must have misgivings. That's why I warned about the risk of civilian casualties," he told the UK newspaper, adding that the military campaign on its own would not be successful.
"You can't have a decisive ending. Now is the time to do whatever we can to reach a political solution," he said.
An internationally supervised ceasefire was necessary, he added, followed by a transitional period "to reach an understanding about the future of Libya".
African Union Chairman Jean Ping said he believed the West would ultimately accept its ceasefire plan, which paves the way for a transition but makes no mention of Col Gaddafi's departure, the main opposition demand.
"The stalemate is already there. There is no other way," he said, quoted by Reuters news agency.
Wing Cmdr Mike Bracken, the Nato mission's military spokesman, said it was not Nato's credibility that was questionable but "the Gaddafi regime's use of human shields [and] firing missiles from mosques".
Nato's mission - to enforce a no-fly zone over Libya to protect civilians using "all necessary measures" short of a ground invasion - began in March in response to Col Gaddafi's violent response to a popular uprising.
The intervention was mandated by the UN, and led by France, Britain and the US until the end of March, when Nato took over.
Having initially been given 90 days - which would have run out on 27 June - the mission has been extended for a further 90 days.