Madagascar country profile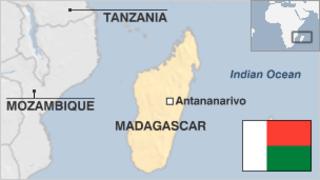 Situated off the southeast coast of Africa, Madagascar is the fourth largest island in the world. Having developed in isolation, the island nation is famed for its unique wildlife.
Traditionally, the Malagasy economy has been based on the cultivation of paddy rice, coffee, vanilla and cloves.
But, despite a wealth of natural resources and a tourism industry driven by its unique environment, the country remains one of the world's poorest, and is heavily dependent on foreign aid.
Since gaining independence from France in 1960, Madagascar has experienced repeated bouts of political instability, including coups, violent unrest and disputed elections.
The most recent coup in 2009 led to five years of political deadlock, international condemnation and economic sanctions. Despite the return of democratic elections in 2013, the political situation remains fragile.
FACTS
Republic of Madagascar
Capital: Antananarivo
Population 25 million

Area 587,041 sq km (226,658 sq miles)

Major languages Malagasy (official), French

Major religions Indigenous beliefs, Christianity

Life expectancy 64 years (men), 67 years (women)

Currency Ariary
Getty Images
LEADER
President: Hery Rajaonarimampianina
Hery Rajaonarimampianina's election as president in 2013 brought fresh hope following years of political instability in Madagascar.
But just 18 months into his presidency, the country's National Assembly voted to impeach him for failing to deliver on his election pledges.
Although the bid failed, Mr Rajaonarimampianina's supporters and opponents remained at loggerheads.
He abandoned attempts to change the electoral law in 2018 to debar rivals Marc Ravalomanana and Andry Rajoelina from standing against him in the November presidential election after street protests.
Mr Rajaonarimampianina stood down in order to pursue his own election bid in September 2018. Senate Chairman Rivo Rakotovao took over as acting president until after the election.
MEDIA
The media are highly-politicised and vulnerable to influence from their owners, says Reporters Without Borders.
Radio is a key news source. Around 10% of Madagascans are online.
TIMELINE
Some key dates in Madagascar's history:
16th-17th centuries - First Europeans arrive but fail to gain a foothold.
1883 - French invasion.
1896 - Monarchy overthrown, and Madagascar declared a French colony.
1946 - Madagascar becomes French overseas territory.
1947 - The French crush an armed rebellion.
1960 - Madagascar wins independence with Philibert Tsiranana as president.
1975 - Didier Ratsiraka seizes power in coup and rules for the most part of 30 years.
1992 - Democratic reforms usher in new constitution.
2001 - After aisputed presidential election Didier Ratsiraka flees to France.
2009 - Bloodless coup results in economic sanctions.
2013 - Democratic elections fail to bring political stability, with executive pitted against legislature.
2018 - Former leaders Marc Ravalomanana and Andry Rajoelina stand against President Hery Rajaonarimampianina in November elections.