China defends visit by Sudan President Omar al-Bashir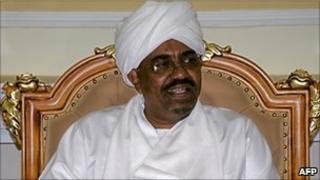 Chinese officials have defended a decision to invite Sudanese President Omar al-Bashir to China next week, after criticism from rights groups.
Foreign Ministry spokesman Hong Lei said his government had every right to invite Mr Bashir, whom China has supported for many years.
The International Criminal Court (ICC) issued an arrest warrant for Mr Bashir for genocide and war crimes in 2009.
But Mr Hong said China was not signed up to the ICC.
"China has reserved its opinion towards the International Criminal Court lawsuit against President Omar al-Bashir," he said.
"President Bashir has been visiting other countries on a number of occasions and has been warmly welcomed by those countries."
Since the ICC issued its arrest warrant, Mr Bashir has visited countries including Eritrea, Egypt, Libya and Qatar - none of whom are signed up to the ICC.
He also visited Kenya, which decided not to detain him despite being a signatory to the ICC's treaty. The treaty obliges signatories to detain anyone wanted by the court.
Amnesty International last week urged China to arrest the Sudanese leader.
The organisation's Catherine Baber said China would become a "safe haven for alleged perpetrators of genocide" if the country did not detain him.
The ICC has charged Mr Bashir with crimes against humanity, war crimes and genocide over alleged atrocities in Sudan's Darfur region.
China has invested heavily in Sudan, and has frequently voiced support for Mr Bashir's government.