Libya: China welcomes opposition figure Mahmud Jibril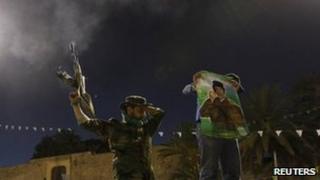 The top foreign affairs official in Libya's opposition has arrived in China for talks with the Beijing government.
Mahmud Jibril is expected to discuss bringing to an end the crisis in Libya, where China has oil interests.
Beijing follows what it calls a policy of non-interference and neutrality in the domestic affairs of other nations.
It abstained in the United Nations Security Council vote which led to the Nato military campaign and has since criticised air strikes.
It has also not joined in calls for the Libyan leader, Col Muammar Gaddafi, to resign.
However, the BBC's Beijing correspondent Martin Patience says Mr Jibril's visit will be seen as another blow to Col Gaddafi's rule.
Beijing has recently been stepping up efforts to persuade the two sides to reach a political agreement.
Chinese officials have already held two meetings with the head of the National Transitional Council, Mustapha Abdul-Jalil, the rebels' umbrella organisation.
The Libyan Foreign Minister, Abdelati al-Obeidi, also spent three days in Beijing earlier this month, with China saying a ceasefire should be the "top priority" of both sides.
Beijing may be asked to consider giving financial assistance to the rebels; Italy, France, Kuwait and Qatar have pledged money so far.
Mr Jibril is scheduled to stay in China for two days.
China has oil interests in the north African state and evacuated 30,000 of its workers at the start of the conflict in February.