West Africa drugs trafficking 'increasingly sophisticated'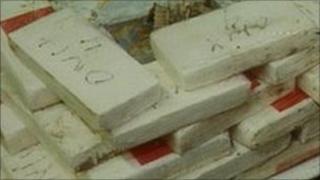 UN anti-drugs officials believe cocaine trafficking through West Africa to reach the lucrative markets in Europe is getting increasingly sophisticated.
The regional head of the UN Office on Drugs and Crime, Alexandre Schmidt, said cocaine seizures had gone down.
But he had every reason to believe the trade was still increasing, and was now worth some $800m (£494m) a year.
There was also increasing involvement by West Africans themselves, with regional cartels emerging, he added.
Submarines
At a conference in the Senegalese capital, Dakar, Mr Schmidt said seizures of cocaine bound for Europe in West Africa had dropped from 47 to 35 tonnes between 2008 and 2009.
But he said that the illegal trade had not followed the same trend and might even be increasing.
"There has been a repositioning of the drug routes and the drug traffickers have much more sophisticated means and they are using more routes," he explained.
There is anecdotal evidence to suggest cartels have used submarines, as they have done off the South American and Caribbean coasts.
"We are not talking about military vessels here, but rather smaller ones which can be bought freely on the international market by anybody who has a couple of million dollars to spare," he said.
Mr Schmidt also said a few hundred people from Latin America still dominated the trade in West Africa, but that more and more locals were becoming involved.
Drug cartels had started to emerge within the region, and they were managing to stay one step ahead of transnational crime units, who were finding it harder to intercept the smuggled goods.
Mr Schmidt also said that although there was no evidence al-Qaeda's North African wing, Al-Qaeda in the Islamic Maghreb, was organised in drug trafficking, the group was certainly providing intermediary services in return for money.