Eritrea volcano ash hits Ethiopia villagers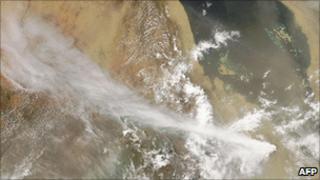 Ash spewing from the Nabro volcano in Eritrea has covered villages in Ethiopia, affecting at least 5,000 people, aid workers say.
Initial reports said eight villages in the Biddu district of Ethiopia, close to the border, were covered by volcanic dust.
Villagers have been left without food and traditional springs and streams have been polluted.
The Afar regional government says the numbers affected could rise sharply.
Save the Children told the BBC the authorities had sent a team to conduct a detailed assessment of the situation.
An initial report by the regional government says the situation in border villages is a serious concern.
"Many community members and especially children are reported sick and in desperate need of medical attention," said Teshome Assefa, of Save the Children.
"Vomiting and retching are common."
The whereabouts of one community living close to the eruption is unknown.
The Nabro volcano has sent the plumes of ash 13km (eight miles) into the air.