Tunisia: Ben Ali 'deceived into leaving for Saudi'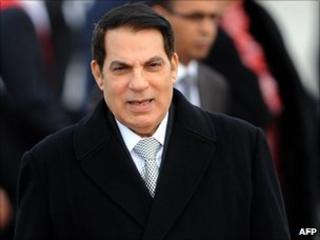 Ousted Tunisian President Zine al-Abidine Ben Ali says he was not fleeing when he left the country in January.
In a statement issued as his trial in absentia began, Mr Ben Ali said he had taken his family to Saudi Arabia for safety.
Mr Ben Ali said he had intended to return to Tunisia immediately, but the plane left without him, "disobeying my instructions".
He flew to Saudi Arabia on 14 January following a popular rising.
"I was duped into leaving Tunis," Mr Ben Ali said.
He also denied giving orders to fire on demonstrators, something he said could be proved through recorded contacts between the presidency, the interior ministry and other ministries.
But the BBC's Jon Leyne says that for the moment that is not what he is charged with.
The current trial is looking at accusations of corruption and drug smuggling, all of which the former president also denies.
He faces up to 20 years in prison if convicted on various charges.
His lawyers said the trial was an attempt by Tunisia's interim government to divert attention from their failure to restore stability in the country.
The Saudi authorities have yet to respond to an extradition request from Tunisia for Mr Ben Ali and his wife, Leila Trabelsi, and there seems little likelihood of them being brought to justice in person.
'Victor's justice'
The Tunisian authorities have been preparing several legal cases against Mr Ben Ali, but Monday's trial will initially cover charges relating to money, weapons and drugs allegedly left behind in his palaces.
Almost 2kg (4.4lb) of drugs, believed to be cannabis, and $27m (£16.4m; 18.7m euros) in cash were allegedly discovered.
Mr Ben Ali is also being investigated on suspicion of murder, abuse of power, trafficking of archaeological artefacts and money laundering.
Speaking through his Beirut-based lawyers on Sunday, Mr Ben Ali mounted a defence of his 23 years as president, which many Tunisians say was marked by autocratic rule, corruption and human rights abuses.
"He would like everyone to know this criminal prosecution is only a false and shameful image of victor's justice," a statement said.
"Is the purpose behind that [trial] to divert the attention of Tunisians from the turmoil that nobody can accuse him of or hold him responsible for?
"He knows that every new political authority wants to blame its predecessor and hold it responsible for difficulties it fails to resolve."
The statement also appealed to Tunisians not to forget Mr Ben Ali's achievements.
"He hopes from his heart that Tunisia escapes chaos and darkness and continues on its path towards modernity," the statement said.