Is Sudan heading for an acrimonious divorce?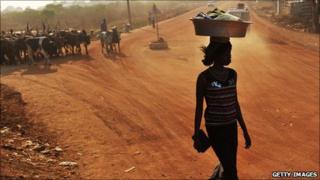 On the streets of Juba, people are busy getting ready for 9 July, when South Sudan will become the world's newest country - they are planting trees, sweeping up dust and collecting litter.
An electronic clock in central Juba is counting down the hours, minutes and even seconds.
"Congratulations on your freedom," the digital sign flashes, between intermittent power cuts.
But there are far greater worries for Sudan's leaders than just making sure buildings receive a lick of paint to impress expected dignitaries from across the world.
As independence draws near key, fears are rising of a slide back into the violent days of Sudan's decades long civil war between north and south, the last round of which ran from 1983-2005 and left some 1.5 million people dead.
The mood has soured since the euphoria of a January referendum, in which almost 99% choose to form their own nation.
Violence has broken out in border areas with the north in the past month.
Land and cattle
First, there was the border district of Abyei, a contested fertile region of grasslands and farms about the size of Lebanon, which both north and south claim as theirs.
Northern troops and tanks overran the area on 21 May, with militia seen setting large areas of Abyei town on fire.
More than 110,000 people have fled south, the majority still sleeping out in the open in basic conditions, as the over-stretched southern government, aid agencies and UN struggle to support them.
The conflict there is not, as is often reported, about oil. Production has declined sharply, and remaining reserves are believed to be low.
Instead, the conflict is rooted in who claims the land: Between the southern-supporting farming Dinka Ngok people, and northern-supporting Misseryia Arabs, who move with their cattle through the area each year for grazing.
Abyei was meant to hold a referendum at the same time as the south's, to choose which side it joins.
But arguments over who was eligible to vote blocked that.
Key southern leaders come from the region, and many hold it in symbolic importance.
Like in so many other parts of Sudan, the long years of war have escalated traditional tensions into bloody violence.
Now people fear that local hostility threatens conflict between the soon-to-be two separate nations.
'War criminal' governor
Then separate fighting broke out in South Kordofan, a key northern oil state, bordering both the south and Abyei.
Over 60,000 people have fled fighting there, bearing stories of horrific killings and aerial bombardments by the northern army.
But the conflict there is different. It is not a direct north-south battle.
The state is home to the Nuba peoples, a collection of black African ethnic groups, who say they have more in common with former civil war comrades in the south than the Arab-dominated north where they live.
It was one of the areas hit hardest in the civil war, and many Nuba fought in the SPLA former rebels, which is now the official southern army.
But with the south to separate, the Nuba fear that they are being left behind.
Fighting started on 5 June after the ex-SPLA forces there were ordered to lay down their guns.
They say they are now battling against the northern troops to protect their rights within the rump of the Republic of Sudan.
Sudan's Episcopalian Archbishop Daniel Deng Bol has called it a "policy of ethnic cleansing".
Unlike the south or Abyei, there was never an agreement for a referendum.
Instead, "popular consultations" were set up under the 2005 peace agreement - loosely defined talks aimed to ask the people what they wanted for the future.
The newly elected governor Ahmed Haroun has suspended the process.
Mr Haroun is wanted by the International Criminal Court on war crimes charges for violence in the western war-torn region of Darfur.
Tensions too are high in the northern state of Blue Nile, another civil war-era battleground home to many ex-SPLA forces.
Many fear that orders for them to disarm could also trigger dangerous reactions.
Oil
Sudan's President Omar al-Bashir, already an international fugitive from genocide charges in Darfur, has been trying to reassert his power.
The south's separation will be a humiliating loss for northern leaders.
But north and south have been talking.
A deal was reportedly struck over Abyei, to pull out northern troops and replace them with Ethiopian soldiers as UN peacekeepers.
However, no sign of the deal has yet been seen.
Finding a solution to South Kordofan could be even harder.
Juba and Khartoum must still strike deals over how exactly they will separate, including on citizenship issues and contested border areas.
That divorce will not be easy.
Crucially, key oil negotiations must also be made: Some 75% of Sudan's lucrative oil reserves lie in the south.
Revenues are now shared equally - forming 98% of the southern government's budget - but that deal ends at southern independence.
However, the north controls the infrastructure and all pipelines only run north.
Towards independence
Southern officials say nothing will stop independence, pointing out that President Bashir has repeatedly said he will recognise the new nation.
"All the issues still to be negotiated are very important, but nothing can halt our independence," said the south's Information Minister Barnaba Marial Benjamin.
But many fear independence will not bring peace. The south has been racked by violence too.
More than 1,500 people have died in battles this year, both in cattle raids as well as from attacks by at least seven separate rebel militia groups fighting the government.
The south say the rebels are proxy forces from Khartoum - allegations denied by the north.
So far the south has not retaliated against the north, with southern President Salva Kiir insisting he is committed to a path of peace.
Experts say the south's former guerrilla army is little match for conventional warfare against a heavily equipped northern army and air force.
But once the south wins its much longed for independence, there are fears that many will no longer be so accepting, and those itching to fight back will be let loose.