Old MacDonald and his Zulu farm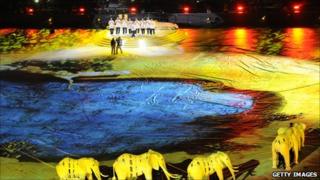 More than 50 years after they first got together, the South African institution that is Ladysmith Black Mambazo are back with a surprising take on an American classic.
Transcending the African culture that inspires their music, the spirit of this latest album is encapsulated in its final song, a Zulu version of Old MacDonald.
Songs from a Zulu Farm is peppered with the noises of an African farmyard but it stays true to Ladysmith's roots in the isicathamiya harmonies of Zulu music, the song rhythm born in the mines of rural South Africa.
Albert Mazibuko is one of the group's longest serving members. "When we were making this album, it didn't feel like a recording," he told the BBC World Service's The Strand programme.
"It was like we were just playing as we did when we were children."
Formed in 1960 by farm boy turned factory worker, Joseph Shabalala, the nine-piece a cappella group has released more than 50 recordings.
But their work spanned a difficult time in the history of South Africa and has covered themes of struggle and injustice, discrimination and tragedy.
In 1980 one of the choir's members, Mazibuko's brother Milton, was murdered. Eleven years later, Shabalala's brother was also killed in what many thought to be a racially motivated killing.
Despite this, Ladysmith's music has always been characterised by an infectious positivity.
Preserving traditions
On stage, even the octogenarian members find the energy to kick, wave and lunge with the beat and this latest album espouses all of that lightheartedness.
"Any time we are sitting backstage, we talk about all the things that have happened in our lives," Mazibuko explains, "and we thought: 'Let's go back and relax and bring that memory of the happy moments in our lives.'"
He breaks into a hearty laugh as he explains how one younger member imitates a chicken on stage.
"Nature" he says, "has been a big part of our lives. Everything we do, the inspiration for our songs, we got it from the animals, chickens, cows, goats, dogs, then the waterfalls and winds and the birds singing."
But it's not all fun and games, the album also provides the group with the opportunity to preserve an oral tradition under threat.
"We have the opportunity to keep these songs because now things are disappearing. People get caught up with new things so they forget about the very good material that we had."
"When we were in the studio, we were asking our friends from America, so they told us about Old MacDonald. Some of our grandchildren were there and they said: 'Yeah we know this song'."
But they decided to give the American classic a distinctly African flavour.
"So we thought: 'Why don't we sing it in Zulu'," he says.
"It was a happy moment you can tell, at the end of the song everyone is laughing and giggling. It is wonderful."