Sudan's Bashir and Kiir 'agree Abyei troop pull-out'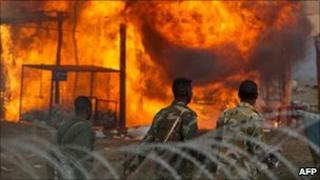 Sudan's President Omar al-Bashir and southern leader Salva Kiir have reportedly agreed to withdraw all troops from the disputed town of Abyei.
The northern seizure of the town last month sparked fears of renewed conflict, as the south prepares to secede in July.
Some 140,000 people have fled recent clashes in Abyei and the neighbouring region of South Kordofan.
Aid workers say pro-southern groups are being ethnically cleansed.
South Sudan is due to gain independence under a peace deal which ended two decades of north-south conflict that left some 1.5 million people dead.
The BBC's Peter Martell in South Sudan says that full details of the withdrawal agreement are still to be disclosed but he says it is a significant step forward.
Neither Mr Bashir nor Mr Kiir have commented since leaving Addis Ababa but officials say Ethiopian troops under UN command are to be deployed to Abyei, which will become a demilitarised zone.
But no timeframe has been given.
Before flying to the Ethiopian capital, US Secretary of State Hillary Clinton urged both sides to accept the offer of Ethiopian troops, reports the AFP news agency.
Former South African President Thabo Mbeki and Ethiopia's Prime Minister Meles Zenawi helped mediate the deal.
However, our correspondent warns that heavy fighting is continuing in South Kordofan, where human rights groups have reported that southerners are being targeted by pro-northern forces.
'Ethnic cleansing'
Although South Kordofan is north of what will soon be the international border, it is home to many pro-south communities, some of whom fought with southern rebels during the long civil war.
"People are being hunted down for their ethnicity," John Ashworth, an adviser with the Sudan Ecumenical Forum, told the BBC's Focus on Africa programme.
He said many areas inhabited by ethnic Nubans were being bombed and shelled by northern forces and that people had fled further into the area's hills and mountains to escape the attacks.
Aid workers say that some 40,000 people have been forced from their homes in South Kordofan, on top of some 100,000 in Abyei.
Amnesty International's Tawanda Hondora told the BBC's Network Africa programme that some people had been arrested outside the UN base in the South Kordofan capital, Kadugli, and were later shot dead.
"We think this is the start of what might be ethnic cleansing of South Kordofan, Unity State and Abyei, with the precise purpose of ensuring that, come independence, the areas will not have people who are perceived to be sympathetic to the south," he said.
Aid agency offices have been looted, churches have been ransacked and buildings destroyed.
But this was denied by Rabbie Abdelattif Ebaid, an adviser to Sudan's information minister.
"The armed forces are targeting the rebels. The area has now been freed from all rebels. Everything is now quiet in the main towns," he said.
On Friday, the south accused the northern military of bombing areas in Unity State to seize oil fields from the south.
The north-south war ended with a 2005 peace deal, under which the mainly Christian and animist south held a referendum in January on whether to secede from the largely Arabic-speaking, Muslim north.
Some 99% of voters opted for independence. President Bashir said he would accept the verdict of the south, where most of Sudan's oil fields lie.
Both Sudan and the South are reliant on their oil revenues, which account for 98% of South Sudan's budget. But the two countries cannot agree how to divide the oil wealth of the former united state. Some 75% of the oil lies in the South but all the pipelines run north. It is feared that disputes over oil could lead the two neighbours to return to war.
Although they were united for many years, the two Sudans were always very different. The great divide is visible even from space, as this Nasa satellite image shows. The northern states are a blanket of desert, broken only by the fertile Nile corridor. South Sudan is covered by green swathes of grassland, swamps and tropical forest.
Sudan's arid north is mainly home to Arabic-speaking Muslims. But in South Sudan there is no dominant culture. The Dinkas and the Nuers are the largest of more than 200 ethnic groups, each with its own languages and traditional beliefs, alongside Christianity and Islam.
The health inequalities in Sudan are illustrated by infant mortality rates. In South Sudan, one in 10 children die before their first birthday. Whereas in the more developed northern states, such as Gezira and White Nile, half of those children would be expected to survive.
The gulf in water resources between north and south is stark. In Khartoum, River Nile, and Gezira states, two-thirds of people have access to piped drinking water and pit latrines. In the south, boreholes and unprotected wells are the main drinking sources. More than 80% of southerners have no toilet facilities whatsoever.
Throughout the two Sudans, access to primary school education is strongly linked to household earnings. In the poorest parts of the south, less than 1% of children finish primary school. Whereas in the wealthier north, up to 50% of children complete primary level education.
Conflict and poverty are the main causes of food insecurity in both countries. In Sudan, many of the residents of war-affected Darfur and the border states of Blue Nile and South Kordofan, depend on food aid. The UN said about 2.8m people in South Sudan would require food aid in 2013. The northern states tend to be wealthier, more urbanised and less reliant on agriculture.