Libya 'repulses rebels' in Zawiya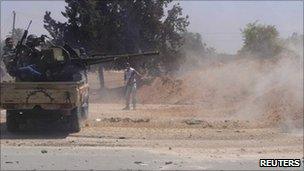 The Libyan government says it has repulsed a fresh attempt by rebels to take the western town of Zawiya.
Rebels said there had been heavy fighting in the centre but journalists taken to the town said it appeared calm and under government control.
In March government forces retook the town, 30km (18 miles) west of Tripoli, after two weeks of heavy fighting.
Separately the BBC has learned that the rebels are smuggling weapons through Tunisia to fight Col Muammar Gaddafi.
Reporters taken to Zawiya by government officials said the green national flag was flying in the central square.
Government spokesman Moussa Ibrahim said an attack by rebel fighters had been driven off.
"The wishful reporting of some journalists that the rebels are gaining more power and more control of some areas is not correct," he said.
Mr Ibrahim said there was "no serious fighting" in the town.
"They were defeated after a few hours of scattered skirmishes with the army," he said, adding that about 100 rebels were under siege just outside the town.
Rebel spokesman M'hamed Ezzawi told Reuters there had been heavy fighting.
"The brigades are using heavy weapons. They are better equipped than the revolutionaries. We have no statistics so far as to the number of martyrs but there are at least seven wounded among the revolutionaries."
Other reports put the rebel losses far higher.
Control of Zawiya would allow the rebels to cut a key supply route to the Tunisian border.
Rebel commander Col Hamid al-Hasi told Associated Press the attack was part of a coordinated offensive.
"Over the past three days, we set fire under the feet of Gaddafi forces everywhere," he said, adding, "we don't move unless we have very clear instructions from Nato."
Nato is enforcing a no-fly zone to protect civilians under a UN resolution and is continuing to strike Libyan government military targets from the air.
The BBC's Wyre Davies in Tripoli says that with clashes now breaking out on a number of fronts, government troops may begin to find themselves overstretched, especially if they have lost much of their heavy weaponry and tanks in 10 weeks of sustained Nato bombing.
Clashes have also continued around the rebel-held city of Misrata and government-controlled Brega further east.
Four rebels were reported killed and dozens wounded in an attack on Brega on Sunday.
Rebel fighter Haithan Elgwei told Reuters: "We attacked them first but they attacked us back. We tried to get to Brega but that was difficult."
The government-controlled city of Sabha in the south has also shown signs of anti-Gaddafi protests, reports say.
Meanwhile, the BBC's Pascale Harter at the Tunisian-Libyan border says Libyan smugglers have been carrying AK47s and grenade launchers across the border to aid rebels.
Members of the Libyan diaspora are funding the purchase of small arms, said one Libyan smuggler, adding that many Tunisians were sympathetic to the rebel cause.