Fazul Mohammed: Clinton pledges justice in Tanzania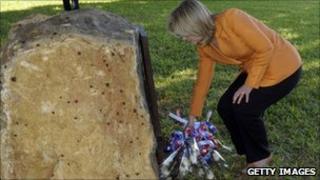 US Secretary of State Hilary Clinton pledged justice for victims of terror attacks as she visited a memorial at the new US embassy in Tanzania.
The visit comes a day after news that al-Qaeda militant Fazul Abdullah Mohammed was shot in Somalia.
He was suspected of playing a key role in the 1998 bombings that destroyed the US embassies in Tanzania and Kenya, in which 224 people were killed.
Somalia's president has said his forces were defeating al-Qaeda in the country.
"We have overpowered al-Qaeda and al-Shabab in Somalia," President Sheikh Sharif Ahmed said, referring to the Islamist militant group which controls much of the south of the country.
He described the death of Mr Mohammed, who had been one of the most wanted man in Africa, as a "major setback" to both groups.
Mr Mohammed is reported to have run al-Qaeda in east Africa from his base in southern Somalia, where he hid for more than a decade after being accused of playing a lead role in the US embassy attacks in Nairobi and Dar es Salaam.
'Justice served'
Mrs Clinton placed flowers at a memorial for the dead on the grounds of the new embassy in Dar es Salaam. She said that the US had not forgotten those who died.
"I know nothing can replace those who have been taken from us by such senseless violence," she said.
"But I know justice was served and I hope that that gives you some measure of comfort."
Mr Mohammed was shot dead by Somali Transitional Federal Government (TFG) forces in north-western Mogadishu on Tuesday.
Somali security forces said they fired on two men who had refused to stop at a roadblock.
Initially, Mr Mohammed's body was buried but after his documents were checked, officials exhumed the body and took samples of his DNA.
On Sunday, the Somali president said US officials had helped identify the Mr Mohammed's body and showed journalists what he said was his birth certificate, family photos and a map of possible targets in Mogadishu.
Born in the Comoro islands in the early 1970s, Mr Mohammed is believed to have joined al-Qaeda in Afghanistan during the 1990s.
After the bombings of the US embassies in Nairobi and Dar es Salaam, Tanzania, in 1998, which killed 224 people, the US accused him of involvement and issued a $5m reward for information leading to capture.
In 2002, Mr Mohammed was reported to have been put in charge of al-Qaeda operations in East Africa. That year, he was blamed for the bombing of a beach resort in Kikambala, Kenya, which left 13 people dead, and an attempt to shoot down an Israeli passenger aircraft.
In 2007, he survived a US air strike on the southern Somali coastal village of Hayo, near the town of Ras Kamboni.
In recent years, Mr Mohammed was thought to have fought alongside members of al-Shabab, which declared allegiance to al-Qaeda in 2010.