Liberia profile - Media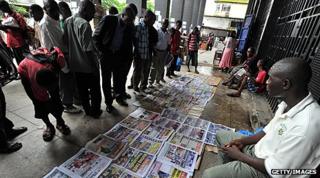 Liberia's media scene includes privately-owned and state-run outlets. Radio is the main news source and there is a lively commercial sector, especially in Monrovia.
There is a handful of TV stations, including a network run by state broadcaster LBS.
BBC World Service broadcasts in Monrovia on 103.1 FM.
Low literacy rates and distribution problems place limits on newspaper readership. Around a dozen titles publish regularly.
Most media outlets are not self-sustaining and rely on government advertising or support from politicians and international donors, says Freedom House.
There is real media freedom in Liberia, says Reporters Without Borders. But it says the authorities still threaten and intimidate journalists when they criticise the government.
Liberia enacted West Africa's first freedom of information law in 2010. However, large fines imposed in libel cases have encouraged self-censorship, says Freedom House.
There were 395,000 internet users by 2016 (Internetlivestats.com).
Press
Television
Clar TV - private
Power TV - private
DC TV - private
Real TV - private
Liberian Broadcasting System (LBS) - state-owned
Radio
Liberian Broadcasting System (LBS) - state-owned
UNMIL Radio - operated by United Nations mission
ELWA - Christian
Sky FM - private