Maiduguri: Nigeria arrests for 'Boko Haram' attacks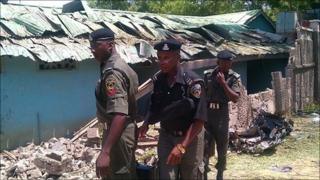 Fourteen people have been arrested in Nigeria after this week's attacks on a church and police stations in the northern city of Maiduguri, police say.
At least 14 people were killed in three explosions, including three people outside St Patrick's Catholic Church.
In a separate incident on Tuesday, a Christian preacher was shot dead by gunmen on motorcycles, police say.
The attacks have been blamed on the Boko Haram Islamist sect, which is fighting to overthrow Nigeria's state.
Police say they recovered four AK-47 assault rifles and a motorcycle when they made the arrests.
Boko Haram gunmen on bikes have killed dozens of police officers and politicians in the past year.
Preacher David Usman and one of his secretaries at the Church of Christ in Nigeria were the latest victims of such shootings, police say.
On Monday Ibrahim Birkuti, a cleric from a different Muslim tradition who had criticised Boko Haram, was shot dead outside his home in the town of Biu, some 200km (120 miles) south of Maiduguri.
'Prisoners well treated'
Some Boko Haram members have claimed that those arrested are being killed by members of the prison service and say this is why they have been targeting prison warders.
But the head of the prison service in Borno State, of which Maiduguri is the capital, told the BBC this was not true.
"We did not kill anybody," Malam Usman Abdulkareem Maina Kaina said.
He said some of those arrested had been freed on bail, while others had been transferred elsewhere in Nigeria.
He promised that any warder who mistreated an inmate would be disciplined.
Boko Haram believes that Western education is wrong.
In 2009, hundreds of its supporters, including its leader Mohammed Yusuf, were killed in Maiduguri after they attacked police stations.
Last week, Boko Haram told the BBC it had carried out a series of bombings after President Goodluck Jonathan's inauguration.
A sect spokesman said it was also responsible for killing the brother of the Shehu of Borno, one of Nigeria's most important Islamic leaders.
The police have made hundreds of arrests and even banned motorcycles at night but have not been able to stop the violence.