Ivory Coast crisis: Alassane Ouattara forces accused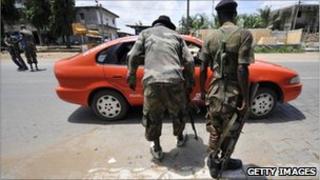 The United Nations has accused forces loyal to Ivory Coast's President Alassane Ouattara of unleashing violence against supporters of former President Laurent Gbagbo.
The troops killed two people and wounded dozens of others during attacks in the south and west, the UN said.
It said many residents fled to forests, leaving villages empty.
Mr Ouattara was sworn in last month, promising to end months of conflict.
The UN human rights officer in Ivory Coast, Guillaume Ngefa, demanded an immediate and impartial investigation into the attacks.
He said Mr Ouattara's forces targeted the village of Becouesin, 50 km (30 miles) north of the main city, Abidjan.
"Along the way, they beat a person who later died from his wounds," said Mr Ngefa.
Machetes
At least 45 people were wounded in the raid in Becouesin, he added.
He said when Mr Ouattara's forces moved into a second village, Yakasse-Me, an elderly man collapsed and died "while he was trying to run into the bush for fear of being arrested".
Mr Ngefa said Mr Ouattara's forces also used machetes to attack people in the village of Domolon, 55 kilometres southeast of Abidjan.
"Much of the population, including pregnant women and children, fled into the forest," he said.
Mr Ouattara took power in April after his forces, backed by UN and French troops, stormed into Abidjan and captured Mr Ggagbo.
He promised reconciliation and said atrocities committed by both sides would be investigated.
The violence in Ivory Coast was triggered by the refusal of Mr Gbagbo to cede power and accept Mr Ouattara's victory in presidential elections last year.
At least 3,000 people were killed in the conflict.