Libya crisis: Allies step up funding to rebels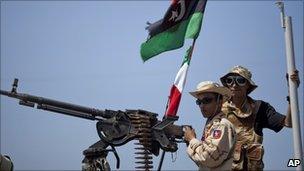 Western and Arab countries involved in the Libya campaign have pledged money to a new funding mechanism for the rebels, stepping up international pressure on Col Gaddafi's regime.
Italy is sending $586m (400m euros; £360m), France $420m, and Kuwait $180m.
The Libyan rebels have said they need $3bn over the next four months.
The pledges came at a meeting of the Contact Group on Libya in Abu Dhabi. US Secretary of State Hillary Clinton said Col Gaddafi's days were "numbered".
"As time passes, maintaining our resolve and unity only grows more important," she told the meeting of the Contact Group - which includes Britain, France and the US, as well as Arab allies Jordan, Kuwait and Qatar - convened to prepare for the post-Gaddafi era.
Mrs Clinton added: "Alongside our military mission to protect the Libyan people, we must continue to escalate the political, diplomatic and financial pressure on Gaddafi and his regime.
"Time is on our side - but we know we must sustain the pressure."
The temporary mechanism to transfer funds to the Libyan rebels is now operational, officials at the meeting said.
Representatives for Libya's rebel National Transitional Council (NTC) transitional council say it needs cash urgently to pay for salaries and food supplies.
Italy said it would give the rebels up to $586m (400m euros; £360m) in cash and fuel aid backed by frozen Libyan assets.
France said it would release $420m (290m euros; £257m) of frozen Libyan funds.
However, correspondents say there is no sign of any progress in the rebel requests to unfreeze Libyan assets in the US.
The NTC says it wants to restart oil production at fields under its control, at the rate of about 100,000 barrels a day, but has given no time-frame
US Defence Secretary Robert Gates calls for more countries to contribute to Nato operations over Libya, saying those "bearing the brunt of the strike burden are increasingly pressed"
US military operations in Libya are on course to cost hundreds of millions of dollars more than the Pentagon estimated, according to figures obtained by the Financial Times
Mrs Clinton says she is aware of "numerous and continuing" discussions by people close to Col Muammar Gaddafi on the "potential for a transition", but gave no details
The abuses include murder, torture, and indiscriminate attacks on civilians allegedly committed by pro-Gaddafi forces, as well as serious violations by rebel forces.
Libyan diplomat Mustafa Shaban on Thursday told members that his government was "the victim of a widespread aggression" and blamed the media, opposition and foreign mercenaries for human rights abuses, including "acts of cannibalism".
In a separate development, the chief prosecutor for the International Criminal Court (ICC), Luis Moreno-Ocampo, said there was evidence that Col Gaddafi had ordered the rape of hundreds of women as a weapon of war against rebel forces.
He said he was looking into allegations that security forces had been given medication such as Viagra to enhance their sex drive.
In March, a Libyan woman, Eman al-Obeidi, made headlines around the world after she burst into a Tripoli hotel and said she had been raped by pro-Gaddafi troops. She is recovering at a refugee centre in Romania.
Earlier, Nato carried out further air strikes on government targets in Tripoli. At least two powerful explosions rocked the Libyan capital late on Wednesday.
Related Internet Links
The BBC is not responsible for the content of external sites.