Libya crisis: Gaddafi vows to fight to the death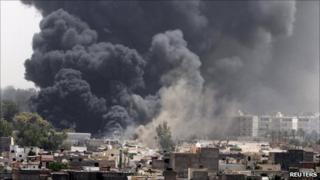 Libyan leader Col Muammar Gaddafi has vowed to remain in the country "dead or alive" in an audio message on state TV.
He called on his supporters to defy the continuing Nato air and missile strikes and gather at his compound in Tripoli.
Col Gaddafi said he would welcome death because martyrdom would be a "million times better" than surrender.
The statement came hours after Nato carried out one of its heaviest daytime raids on the capital so far, with more than 20 air strikes by low-flying jets.
The Libyan government acknowledged that military installations belonging to the Republican Guard had been targeted.
Meanwhile, China and Russia are involved in separate diplomatic efforts to try to end the conflict. Libyan Foreign Minister Abdul Ati al-Obeidi is visiting Beijing, and a Russian envoy is in Benghazi to meet the rebels.
'Matter of time'
In his speech broadcast on state TV, Col Gaddafi vowed: "We only have one choice. This is our country and we shall stay here till the end - dead, alive, victorious. It doesn't matter."
"We shall not leave. We shall not surrender. We shall not sell it," he added. "We welcome death. Martyrdom is a million times better."
Col Gaddafi also called on his supporters at Bab al-Aziziya, and warned that the Libyan people would soon defeat their enemies.
"The Libyan people will march, in the direction of the east or the west, or to any place where there are armed gangs to strip them of their arms without fighting."
Addressing Nato, he added: "Your planes will not be able to stop these marches of the millions, nor will the armed gangs that you support be able to resist for even a minute in the face of these marches".
"We are stronger than your missiles, stronger than your planes and the voice of the Libyan people is louder than explosions."
Separately, Libyan state TV broadcast images purporting to show Col Gaddafi meeting tribal leaders at an unidentified location on Tuesday.
Col Gaddafi's comments came not long after Nato warplanes repeatedly pounded targets in and around his Bab al-Aziziya compound in Tripoli. Reporters counted at least 27 air strikes by Tuesday afternoon.
Some of the bombs hit a military barracks near the compound, officials said. Others hit the compound itself, Libyan television reported.
The New York Times said what appeared to be bunker-busting bombs had destroyed six or seven buildings, including a reception house and VIP guesthouse where South African President Jacob Zuma was received last week.
Officials told the newspaper that 10 to 15 people had died in the attack, but the figure could not be verified. Foreign journalists taken to the area late in the afternoon saw one body that had been pulled from the rubble.
'Inexorable trend'
Until now, most Nato air strikes in Tripoli had been carried out at night. The alliance recently said it was increasing the scope and intensity of its UN-mandated campaign to protect civilians.
Libyan government spokesman Moussa Ibrahim condemned the latest Nato raids, telling reporters: "Instead of talking to us, they are bombing us. They are going mad. They are losing their heads."
But US President Barack Obama said there had been "significant" progress in Nato's mission to protect Libyan civilians, hundreds of whom have been killed since anti-government protests began in mid-February.
"What you are seeing across the country is an inexorable trend of the regime forces being pushed back, being incapacitated," he told a news conference after talks with German Chancellor Angela Merkel.
"I think it is just a matter of time before Gaddafi goes."
Earlier, the head of the High-Level African Union Panel on Libya, Mauritanian President Mohamed Ould Abdel Aziz, also said Col Gaddafi's departure had "become necessary".
"Whatever happens, there will be a negotiated solution. In any case, Gaddafi can no longer lead Libya," he told the AFP news agency.
Separately, Libyan Labour Minister Al-Amin Manfur became the latest senior Libyan official to defect, diplomats with Libya's mission to the UN in Geneva said.
Staff in Libya's UN mission in Geneva collectively defected in February.
Mr Manfur, who had been representing Libya at the annual meeting of the International Labour Organisation, was said to be on his way to the rebel stronghold of Benghazi.