Zimbabwe 'phantom voters' exposed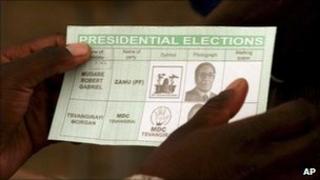 A leaked version of Zimbabwe's voters' roll contains some 2.6m too many names, according to a report by a respected South African organisation.
There are more than 41,000 people aged over 100 - four times more than in the UK, which has a far larger population and far longer life expectancy.
"This phantom vote is more than enough to settle the outcome of any election," said the author, Richard Johnson.
President Robert Mugabe has called for elections to be held this year.
But his long-time rival, and prime minister in the power-sharing government, Morgan Tsvangirai, says they should be held in 2012 after a new constitution has been passed to ensure they are free and fair.
The 2008 elections were marred by violence against Mr Tsvangirai's supporters, and observers have alleged widespread fraud in previous polls.
Tensions have been rising recently between supporters of Mr Mugabe and Mr Tsvangirai, as elections draw near.
Shared birth date
Mr Johnson says Zimbabwe's government has been at pains to keep the voters' roll secret but he managed to obtain a copy, which he analysed for the South African Institute of Race Relations.
He notes that, although Zimbabwe's life expectancy has dropped to 49, there were 41,100 voters aged over 100.
He also found that 16,800 people shared the same date of birth - 1 January 1901, while the names of deceased people had not been removed.
Some 230 voters were aged below 18, some of whom were below two years of age.
"If experience is any guide, phantom voters are likely to vote early and often in the next Zimbabwean poll," Mr Johnson said.
He told the BBC's Focus on Africa programme that Zimbabwe's population was at most 10 million due to mass emigration.
"Given the age structure of that population, you can work out that there shouldn't be more than 3.2 million, at the very most, on the voters roll - and there are 5.8 million."
He called for a new, independent electoral commission and for the voters' roll to be made public.