South Africa mourns Albertina Sisulu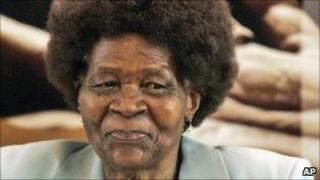 South Africa is mourning one of the leading lights of the anti-apartheid movement, Albertina Sisulu, who has died aged 92.
Mrs Sisulu was the widow of Walter Sisulu, a friend and mentor of former South African President Nelson Mandela.
A political figure in her own right, she was active in the women's league of the African National Congress (ANC).
ANC spokesman Brian Sokutu said Mrs Sisulu had dedicated her life to bringing democracy to South Africa.
''Comrade Sisulu dedicated her entire life to serving the ANC and liberating South Africa. We pay tribute to this selfless leader and mother of the movement," South Africa's Times paper quotes him as saying.
'She never gave up'
Key figures from the governing ANC have been visiting Mrs Sisulu's family home in northern Johannesburg to pay their respects.
Ahmed Kathrada, a lifelong friend and colleague, said he considered Mrs Sisulu a mother and was deeply shocked by the news of her passing.
"Politically she was a great humanitarian, a great comrade, a loving comrade and an inspiration. She never ever gave up," South Africa's Eyewitness News quotes Mr Kathrada as saying.
Nobel Peace Prize winner Archbishop Desmond Tutu said she was an inspiration to all South Africans.
"She had remarkable dignity and courage," he told the BBC's Focus on Africa programme.
One of her sons said Mrs Sisulu was at home with two of her grandchildren watching the news on television when she died.
When the news broke late on Thursday evening, social networking websites in South Africa were flooded with tributes to the veteran campaigner, known affectionately as "Ma Sisulu".
Shaka Sisulu, one of Mrs Sisulu's grandchildren, has been sending regular tweets about his grandmother's death and says the family is overwhelmed by the outpouring of support.
"I am in a room 24 Sisulus of varying ages (21 - 63) discussing logistics of Gogo Sisulu's funeral," he said in one tweet on Friday.
"A funeral is hard to plan normally. One of an icon? Shew! In another meeting of 20 odd ppl from govt agencies & ANC," he added in another.
House arrest
Mrs Sisulu first met Walter Sisulu in the 1940s after she moved to Johannesburg to work as a nurse.
Although not from a political background, she quickly established herself as an anti-apartheid activist in her own right and was among those who in 1956 led a march of 20,000 women protesting at being forced to carry passbooks.
While her husband was confined to jail with Mr Mandela, she found herself subject to periods of house arrest.
Mrs Sisulu was a former deputy president of the ANC Women's League.
"The first time I met her I was from prison, we met her so she could take us through what to expect, she was so motherly," Sisisi Tolashe, the ANC Women's League general secretary told the BBC's Network Africa programme.
"She spoke to us like a politician but she mostly spoke to us like a mother," she said.
Mrs Sisulu also became an envoy for the ANC, visiting leaders overseas including former UK Prime Minister Margaret Thatcher, drawing attention to the anti-apartheid struggle.
In 1994 she took up her seat in South Africa's first democratically elected parliament.
She was one of the only people allowed at Mr Mandela's bedside when he was taken into hospital earlier this year.
The struggle veteran was last seen in public on the eve of the local municipal elections in May, when she cast a vote in Johannesburg.