Libya unrest: UK and France 'to send helicopters'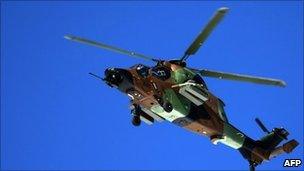 Britain and France are to deploy attack helicopters in Libya, French Defence Minister Gerard Longuet says.
Mr Longuet said they would start as soon as possible. The UK has yet to confirm the deployment.
The move would increase pressure on Col Muammar Gaddafi's forces, as helicopters can hit targets on the ground more accurately.
Nato jets have been targeting Col Gaddafi's military infrastructure, but have been unable to stop the fighting.
Late on Monday, several massive explosions were heard in the capital, Tripoli, including close to Col Gaddafi's Bab al-Aziziya compound.
In a separate development, the most senior US diplomat yet to visit the rebels in Libya is holding talks in their Benghazi stronghold.
US Assistant Secretary of State Jeffrey Feltman met the Transitional National Council, which rules the east of the country.
In a statement released during the visit, Washington reiterated that Col Gaddafi - who controls most of the western Libya and also the capital Tripoli - must leave power.
However, the Libyan rebels failed to gain full recognition when they travelled to the US a week ago.
On Monday, Mr Longuet confirmed earlier media reports that France was sending its attack helicopters to Libya.
Speaking on the sidelines of talks with European Union defence ministers in Brussels, Mr Longuet also said: "The British, who have assets similar to ours, will also commit."
"The sooner the better is what the British think," the French minister added.
Earlier, France's Le Figaro newspaper said that 12 helicopters were despatched to Libya on the French carrier Tonnerre on 17 May. The helicopters involved were allegedly Tigre and Gazelle.
A spokesman for Britain's ministry of defence said in a statement that "as with any military campaign, we are constantly reviewing our options alongside allies to enhance the capabilities available to Nato".
BBC defence correspondent Caroline Wyatt says using attack helicopters marks a significant escalation of the campaign.
She says the UK's Apache attack helicopters would deploy from HMS Ocean, the Royal Navy's largest warship. Our correspondent says the BBC understands their use was authorised by the prime minister at a meeting of the National Security Council.
Experts say these helicopters are able to identity targets quickly but they are more vulnerable than the strike aircraft.
Related Internet Links
The BBC is not responsible for the content of external sites.