Uganda warning over horn-honking protest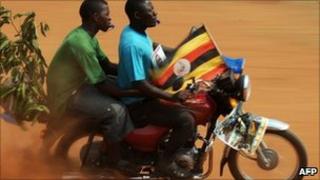 Ugandan police have warned people planning to hoot car horns in protest at the rising cost of living they will face arrest for noise pollution.
The opposition call to honk horns or whistle five times at 1700 local time (1400 GMT) was to complement the "walk-to-work" protest begun in April.
A BBC reporter says some honking could be heard at the appointed time, but it was rather low key in some areas.
Rights groups have criticised the violent crackdown on recent protests.
They say at least nine people have died, while the government accuses the opposition of trying to organise an Egypt-style uprising after losing an election in February.
Opposition leader Kizza Besigye says the vote was rigged.
Dr Besigye has been arrested four times and placed under preventative arrest once since the protests against the rising cost of food and fuel began.
Henry Bellingham, the UK's minister for Africa, called on President Yoweri Museveni to rise above "petty party politics".
He said the "very tough tactics" used against Dr Besigye were a concern for the UK government, one of Uganda's largest aid donors.
"President Museveni won with a big majority, he should now be magnanimous, he should be statesman-like, he should rise above trying to make any moves against the opposition," Mr Bellingham told the BBC's Network Africa programme.
"[He should] carry on the excellent work which he's doing in many ways in terms of the prosperity agenda in Uganda [and] counter-terrorism.
"On all these fronts Museveni has been doing a good job, but I think it demeans him and his government to use excessive force and these tactics against the opposition."
Mr Museveni was sworn in for a fourth term as president earlier this month.
He says he wants a new law to deny bail for six months to those arrested for rioting or causing economic sabotage.
'Bang saucepans'
Police spokesperson Ibin Ssenkumbi said the force's stance on the horn protest would the be same as the "walk-to-work" campaign.
"[The] Car hooting act is illegal… what I can say is that any protester will be subject to arrest," he is quoted by Uganda's Daily Monitor newspaper as saying.
Another police spokesman, Vincent Ssekate, cited a law against noise pollution and told the BBC anyone hooting near a hospital or school would definitely be picked up.
The BBC's Joshua Mmali in the capital, Kampala, says at 1700 local time some car horns could be heard, especially in central areas of the city where the big bus and taxi stations and main markets are situated.
But in the business and banking district the call was the largely ignored, and the horns did not ring out loudly together across the city, he says.
Mathias Mpuuga, the opposition MP behind the Activists for Change campaign who had urged those without a car to join in by banging saucepans, blowing vuvuzelas, said he was satisfied with the initial response.
"In downtown Kampala the noise was really immense, for me this is encouraging," he told the BBC's Focus on Africa programme.
"I know for a fact that upmarket Kampala is risk adverse. Those upscale perhaps have enough to eat, those downtown are the people who are downtrodden and have to have the message heard."
He said more people would get involved and the "drive, ride and hoot" campaign would be a daily event.
'Partisan police'
Earlier, Mr Mpuuga questioned whether anything was now legal in Uganda - after recent walk-to-work protests were broken up by the police.
He said the police force was over-enthusiastic and partisan, adding it was like a robot being controlled from State House.
BBC East Africa correspondent Will Ross says the government sees sinister motives in the opposition's protests and accuses it of encouraging violence and chaos.
Last month, riots broke out in Kampala in protest at the rough treatment meted out to Dr Besigye by the security services during his arrest on 29 April.
Plain-clothed policemen were filmed beating up his supporters, smashing the window of his car and dousing the inside with pepper spray and tear gas before manhandling him into a vehicle and driving off.
The authorities say Dr Besigye provoked them - and he was charged with inciting violence.