Ivory Coast: Alassane Ouattara warns of mercenaries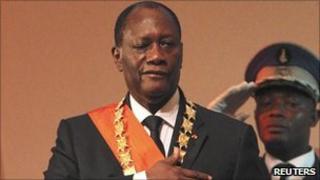 Ivory Coast President Alassane Ouattara has warned that mercenaries could threaten West African security.
Fighters loyal to ex-President Laurent Gbagbo have fled to neighbouring countries, he told the BBC.
Mr Ouattara said that Liberian mercenaries and forces backing the former president left when it became clear that he would emerge as leader.
Mr Ouattara, who was inaugurated on Saturday, says his new government will include supporters of Mr Gbagbo.
But the Ivorian president believes many fugitives have already gone back to Liberia, from where he said they would move on to Sierra Leone and then Guinea.
"So we have to consider this a regional problem, and give it a regional solution," he told the BBC's Barbara Plett.
Liberia and Sierra Leone are emerging from their own long civil wars, while Guinea remains fragile after years of military rule.
It held its first democratic election last year.
Justice after atrocities
Although he said he would include members of other parties than his own, the new Ivory Coast president insisted that his government would be made up of those best suited to the job.
"What I will do with major parties is for them to propose names to me and then I will select the best profiles to form the government," he told our correspondent.
"This is true for Mr Gbagbo's party but it will be true for others too, because I was democratically elected as president, so it's not for someone to impose a person on me."
Mr Ouattara was inaugurated six months after winning presidential elections, following a bloody power struggle with Mr Gbagbo that brought the country to the brink of civil war.
His two main objectives were to set up a national unity government and organise a reconciliation process in what is now a divided country, he said.
A truth and reconciliation commission is still more of an idea than a reality, Mr Ouattara conceded, but he said he had already sought advice from several countries "that have gone through this trauma" - such as South Africa, Liberia and Sierra Leone.
In his first days in office he has also pledged to bring the perpetrators of violence to justice, and brought in the International Criminal Court to help.
Some Ivorians are afraid that putting Mr Gbagbo on trial will only deepen divisions. But Mr Ouattara insisted that step must be taken, insisting there would be no contradiction between pursuing both justice and reconciliation.
He accused Mr Gbagbo and his supporters of committing crimes against humanity during the power-struggle but said his own forces would also be investigated over reports of mass killings in the west.
Mr Gbagbo is currently under arrest - his supporters have previously denied charges that they fired heavy weapons at civilians.
Cases would be based on investigations by the national prosecutor and the UN Human Rights Council, he said.
Integrating into the army this coalition of veteran rebel forces, militiamen and recent recruits is one of his biggest challenges, our correspondent says.
"We have to make sure that we form a normal army by picking those who can be trained, who can be considered as soldiers, and those who cannot will have to be excluded. We have to find a way to give them some other activity," Mr Ouattara said.
"Because clearly we cannot leave a group of young people like that both on Mr Gbagbo's side and on the Forces Nouvelles [pro-Ouattara] side without any activity.
"But they have to stop violence, they have to consider that some are not apt to become soldiers and therefore have to do something else."
Ambitious plans
The president said he shared these concerns with the UN Secretary General Ban Ki-moon who - along with the French President Nicolas Sarkozy - received a rousing welcome at the inauguration ceremony.
UN peacekeepers played a key role in the conflict. They certified Mr Ouattara's election victory and then together with French forces launched air strikes on Mr Gbagbo's heavy weapons.
The attacks aimed to protect civilians, but their effect was to pave the way for the arrest of the former leader.
Mr Ouattara dismissed suggestions that this might reinforce the perception that he came to power on the back of a colonial intervention, insisting that as a democratically elected president he had nothing to prove.
He declined to acknowledge that he could defeat Mr Gbagbo only with French and UN help, but said he was very grateful for it.
Mr Ouattara knows that getting people back to work quickly is key to cementing support for his presidency, our correspondent says.
He spoke of an ambitious economic programme that would use public resources for roads, schools and hospitals, build on economic reforms begun in the 1990s, and make sure that "social expenditures comprise important parts of budgetary resources, and not military spending."
He is convinced he will get a lot of support from the international community, including the UN.
Despite the end of the crisis, the president said the country was still fragile and has asked the UN to maintain its mission at least until after parliamentary elections later this year.