Piracy: IMO guidelines on armed guards on ships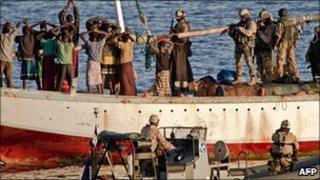 The UN's International Maritime Organization (IMO) is issuing guidelines on the use of private armed guards to protect ships from piracy.
This comes after a meeting in London which discussed the use of guards on board ships in areas of high risk, including in the Indian Ocean.
About one in 10 ships off the Somali coast already carry armed guards.
But observers say this number is now likely to rise.
The IMO says there were 489 reports of piracy and armed robbery against ships in 2010 - up more then 20% on 2009.
The areas worst affected were the Indian Ocean, East Africa and the Far East including the South China Sea, South America and the Caribbean.
So far this year more than 200 cases have been reported.
Correspondents say piracy in the Indian Ocean is getting more lucrative and more violent, despite an anti-piracy EU naval force patrolling the area.
Torture
The IMO's new recommendations are backed by the independent trade body for security companies operating at sea, the Security Association for the Maritime Industry (Sami), launched last year.
Peter Cook, co-founder of Sami, told the BBC: "The pirates have been killing - they have been torturing and doing fake executions and the level of violence is increasing.
"It is clear that something has got to be done in order for free trade to be able to continue and it is for that reason that the IMO have decided to go down this very unusual route."
The IMO insists that the guidelines are not intended to institutionalise the use of armed, privately contracted security staff on ships and that they do not address all the legal issues that could be linked to their use.
It says it is up to each national government whether to endorse the use of armed guards.
The IMO describes the guidance as "interim recommendations" and says it will review them in September.