Nigerians set to find out how to get to Sesame Square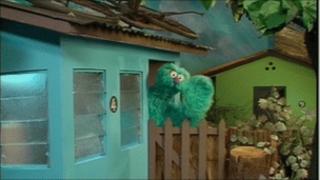 Starring a yam monster, an HIV-positive puppet and talking drums, the Nigerian version of the famous US TV show Sesame Street is all set to hit TV screens this weekend.
There are no New York-style streets with tall blocks of flats punctuated with fire hydrants, but smaller houses with gardens surrounding a huge mango tree, lined with straw baskets.
This is Sesame Square, featuring Kami - a furry, golden, female muppet, and the energetic Zobi, a blue, male muppet, who drives a stationary yellow taxi.
The likeable Kami is five years old, and HIV-positive, in a role that is expected to help eliminate the stigma associated with the Aids virus.
Yemisi Ilo, the executive producer of the series, notes that having a character like Kami will "help educate children in a fun and lighthearted way".
"Our reality here in Nigeria is that there are hundreds of thousands of Aids orphans," she adds. "We want all children, including those with HIV, to be able to relate with the characters."
"It is by no means heavy… Kami doesn't come out saying she is HIV-positive. It's just who she is."
Nigerian accents
As well as teaching children to spell and count in a fun way, the fluffy Zobi also helps educates them about malaria prevention, in a country where more than 300,000 people die every year from the disease.
"Me eat yam!"
Not only does Zobi have a huge role to play as the co-lead muppet, he is also the "Yam Monster" - Nigeria's answer to the cookie monster in the original programme.
Zobi has a huge appetite, which he tries to satisfy with the starchy tuberous root vegetable which is the staple food of many Nigerians.
Music will typically play a key role, and many local guest artists will be featured.
With scenes shot around the country, the programme will help educate Nigerian children about some of the languages, dress and traditions around the country.
The producers say they will ensure that they take great care to represent all of Nigeria's many ethnic groups and promote national unity.
This will be especially important in a country where outbreaks of violence between rival communities has claimed hundreds of lives this year alone.
The show will be aired in English, and some distinctive characters and segments from the original Sesame Street, such as Ernie and Bert, Elmo, Big Bird, and Grover, will be featured speaking with Nigerian accents.
Oral culture
Sesame Square will debut on the national network, Nigerian Television Authority (NTA), reaching across the country, although not all of Nigeria's 150 million inhabitants have television sets - and many of those in the large audience who own TVs might not have the electricity to make them work.
Ahead of its launch, the programme has attracted a great deal of attention, and not just from children.
"I want my kids to watch this kind of programme, because I also watched Sesame Street when I was young and even now I'm curious to see what this new one is like," says Segun Abimbola, a banker.
Sesame Square, funded by the US government's development agency USAids, is one of more than 20 international adaptations of the original, and the third version in Africa, after Alim Simsim in Egypt, and South Africa's Takalani Sesame (where Kami was first introduced).
The US-based Sesame Street is one of the most widely viewed children's programmes on television. Having been on air for more than 40 years, it is also one of the longest running.
The series has been an educational tool worldwide, focusing on various issues affecting children.
Sesame Workshop, the organisation behind Sesame Street, collaborated with educational consultants and organisations, including USAid, and the Nigerian Ministry of Education, to come up with a curriculum for this project.
The famous Can You Tell Me How to Get to Sesame Street theme song has given way to a similarly catchy Welcome to Sesame Square, enhanced with the beat of local talking drums.
The name Sesame Square was coined to reflect the Nigerian setting, and "it has a nice ring to it", says Ms Ilo.
She says it is based on the traditional Nigerian village, where a landmark, often a huge tree, serves as the centre for meetings.
It is where people gather to debate or tell stories - reflecting the strength of the oral tradition in these cultures.
An oral tradition which Zobi and Kami are about to enhance.