Ivory Coast set for party but can Ouattara clean up?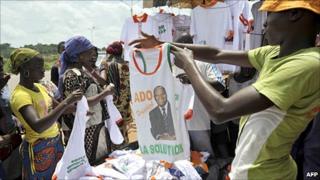 Supporters of Ivory Coast's new President Alassane Ouattara are preparing for a massive ceremony to mark his inauguration this weekend, but for some it has come at a heavy price.
Up to a 100,000 people are expected in the nation's capital, Yamoussoukro, along with French President Nicholas Sarkozy, UN Secretary-General Ban Ki-moon and more than 20 other heads of state for the ceremony - six months after November's election.
The streets have been patched up and swept clean, outdoor stages set up and 400,000 condoms are being handed out for an "investiture without HIV".
The Karamoko family, who are from the north of the country but live in the main southern port city of Abidjan, will be watching the investiture on television.
As for many families, an election that was meant to end a decade-long crisis with the country split between north and south, has left a trail of sadness.
Alassane Karamoko was burnt to death along with three neighbours, who were also from the north, in a taxi that was stopped by militia men looking for supporters of Mr Ouattara - seen by backers of former President Laurent Gbagbo as the candidate of northerners.
"With all that's happened, it's had an impact on all of us", said Mr Karamoko's brother, Lacina.
"But for a real reconciliation we need to put ourselves in God's hands and move forward with love and forgiveness so Ivory Coast can progress."
'Feeling of joy'
The family live in Yopougon, known as the party district of Abidjan, where people come in the evenings to the restaurants and nightclubs.
This was the last pro-Gbagbo area to fall and even though the guns have fallen silent, one does not need to look far to see the impact that the battle has had - there are bullet holes and rocket impacts every few metres.
But in Abobo, a pro-Ouattara area of Abidjan where thousands of residents fled attacks by pro-Gbagbo forces, the main market is now bustling. Mangoes and avocadoes are on sale and butchers can be seen cutting up meat.
"There are some who are still traumatised and struggle to recover from the shock," says Maimouna Fofana, a market trader who witnessed a shell landing on the local market in which some 20 people were killed.
"[But] life is really getting back to normal. Things are working, people have come back and get on with their business as if nothing happened. There's some fear, but we work and it's OK."
Market prices are still high due to informal roadblocks, but electricity and water supplies have been repaired in the city once hailed as the Paris of Africa for its high living standards.
Activity has also resumed at Abidjan's port, which was virtually deserted just a few weeks ago.
The port was secured by French soldiers towards the end of the battle for Abidjan, something that has left the government's major revenue earner intact.
"We didn't have any harm done to our infrastructure, so the return to work has been natural," says Captain Idrissa Dosso, head of the maritime exploitation department at the port.
"Today, there's a big feeling of joy just to see at the entrance to the port the large lorries parked up, the forklift trucks working, men carrying out their work - because that's the economy - it's about making the money go round."
The resumption of cocoa bean exports will also be an important source of revenue over the coming months.
Nearly half a million tons of cocoa has gathered in the warehouses since January - about a sixth of the world's total annual harvest.
'Ready for reconciliation'
Visitors are even returning to Abidjan's zoo, where three lions and several chimpanzees died of starvation during the fighting.
Though there has been a fresh coat of paint for the entrance, there is still no budget to feed the animals, most of whom are living on fruit.
"We need to come and see the state of things here and to see what we can do so that this zoo can live again - it's part of our heritage so we can't just let it disappear like this," said a woman, whose children were desperate to see some of the elephants who gave the country its name.
In the far west, some of those belonging to ethnic groups seen as loyal to Mr Gbagbo are gradually returning to their homes.
In the western town of Duekoue, 40,000 people sought shelter at the Catholic mission, many of them arriving after pro-Ouattara forces swept through the town, leaving hundreds of civilians dead.
But some 25,000 people remain crammed into the church and its grounds.
"The men were executed - it was only the women who were able to get away," says Pascal Monnet, who has been at the mission for more than a month and comes from the Guere ethnic group, seen as backing the former president.
For him, the end of fighting and the investiture of President Ouattara should herald a period of reconciliation.
"We're already starting the reconciliation process and to tell our young people to forget the atrocities and the trauma created by all this. We're condemned to live together - we grew up together."
Mr Gbagbo is currently under house arrest in the northern town of Korhogo and has been questioned over alleged crimes against humanity.
The inauguration is designed to send out a strong message to the Ivorian population that their new president has considerable support in the international community and that he can bring back the pomp, splendour and prosperity of former times.
The doors will be opened on some of West Africa's most imposing - and barely used - buildings, such as the seven-storey Houphouet-Boigny foundation and the basilica, the world's biggest church.
For the UN and French, whose attack helicopters played an important role in bringing Mr Ouattara to power, it is a celebration of a military intervention that went according to plan - short and decisive to back-up a democratically elected leader.
But just as a marriage is judged on the happiness of the years after the wedding guests have left, so this weekend's ceremony celebrates only that Mr Ouattara has become president and not his achievements.
For that, the challenge lies in the coming months and years, if the ruined economy is rebuilt, the country reconciled and the guns destroyed.
You can hear more from John James on the battle for Abidjan and the city's recovery on African Perspective on the BBC World Service on Saturday 21 May 2011 - also available as a podcast.