Ivory Coast asks ICC to investigate human rights crimes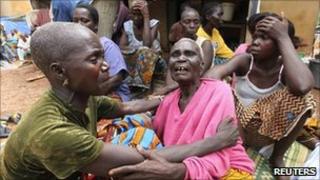 Ivory Coast President Alassane Ouattara has asked the International Criminal Court to investigate allegations of serious human rights crimes committed during the country's recent turmoil.
This was because "Ivorian justice [was] not at this time best placed to reveal the most serious crimes", he said.
An estimated 3,000 people were killed during the four-month election dispute.
More than 25,000 people are still living in the grounds of a church in the western city of Duekoue.
They say they fear for their safety because they belong to an ethnic group, the Guere, seen as loyal to former President Laurent Gbagbo, who was arrested last month after refusing to accept defeat in last year's elections.
After taking power, Mr Ouattara promised that crimes committed by all sides during the dispute would be investigated.
ICC chief prosecutor Luis Moreno-Ocampo has already said that his office was preparing to launch a formal investigation into alleged mass killings in Ivory Coast.
Several hundred people were reportedly massacred in Duekoue during the unrest during fighting between Gbagbo and Ouattara supporters, with both sides blaming the other.
People in the church are living there in desperate conditions.
"They are living in tents and it is the rainy season in the west of Cote d'Ivoire right now. When it rains, they have to all run away and sometimes they have to sleep standing up," reports the BBC's Abdourahmane Dia, who visited the church.
Inauguration
A number of mass graves have been found in the area as well as in the main city, Abidjan.
Local people allege that many of the victims in Abidjan were killed by Mr Gbagbo's supporters.
Mr Ouattara's government has accused Liberian mercenaries and pro-Gbagbo militias of killing more than 200 people as they fled west after Mr Ouattara's forces captured Abidjan last month.
Human rights groups have accused Gbagbo fighters of using heavy weapons against civilians and targeting members of ethnic groups seen as supporting Mr Ouattara.
Pro-Ouattara forces are also accused of killing and raping during their offensive from their northern bases towards Mr Gbagbo's former strongholds in the south.
President Ouattara was sworn in as president earlier this month and is trying to restore normal life after the four-month dispute.
He is planning an even bigger inauguration ceremony this Saturday in the capital, Yamoussoukro.
Mr Ouattara, supported by much of the international community, took power when forces loyal to him, with support from the United Nations and French troops, captured Mr Gbagbo in Abidjan's presidential residence after a fierce battle.