Egypt revolt: Amnesty International urges deeper probe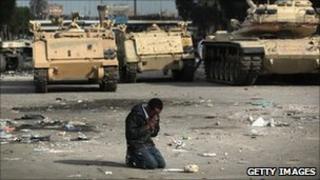 Egypt still has more work to do to give justice to those killed and injured during the rallies that ousted President Hosni Mubarak, Amnesty International says.
In a report, Amnesty gives an account of human rights abuses during the unrest and urges a thorough inquiry.
The rights group says that many victims remain to be compensated and culprits punished.
It also calls for a thorough reform of the security forces.
Minister on trial
In a 123-page report, Amnesty gives a graphic account of the human rights abuses already widely reported to have happened during the revolution in January and February.
The organisation describes how the security forces opened fire on unarmed civilians, how they violently broke up demonstrations, conducted thousands of arrests, tortured and even killed those in custody.
Few, even in the Egyptian government, now dispute what went on.
But Amnesty points out that an official report on the abuses still has not been published in full.
It says that the security forces should be reformed to prevent such abuses ever being repeated.
The report comes just days before former Interior Minister Habib al-Adly is due to go on trial, accused of giving the order to open fire on protesters.
President Mubarak and other senior aides are being detained, while investigations into their role continue.
But Egypt is still a long way from becoming a country in which human rights and the rule of law are respected - in the way the demonstrators called for.