Rwanda's Augustin Bizimungu in profile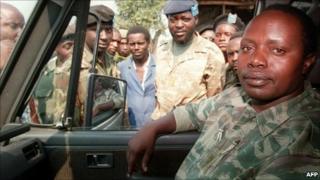 Justice has finally caught up with Rwanda's former army chief Augustin Bizimungu 17 years after the genocide ended.
He managed to escape capture for eight years, until he was caught with Unita rebels in Angola in 2002.
At the time, he topped a list of wanted genocide suspects, for whom the United States government had offered a reward of up to $5m (£3m).
His trial, at the UN's war crimes tribunal for Rwanda, has lasted another nine years.
It has sentenced him to 30 years in jail for his role in 1994 killings of some 800,000 ethnic Tutsis and moderate Hutus.
Bizimungu, 59, appeared unmoved when the judge ruled that, as army chief he had complete control over the soldiers and extremist militia who carried out the killings.
His indictment stretched to 56 pages and took two-and-a-half hours to read out.
It said he had conspired to exterminate the Tutsi population.
It said he prepared lists of ethnic Tutsis to be exterminated, referring to them as "cockroaches" - a term widely used by those carrying out the slaughter to dehumanise their victims.
He went to the homes of militants, distributed weapons and fuel to burn houses and ordered all Tutsis to be killed.
Bizimungu also turned his back on Tutsis who appealed to him directly at the height of the slaughter and who were killed minutes later.
He allegedly did nothing to stop the widespread rape, sexual abuse and humiliation of Tutsi women and girls.
He pleaded not guilty on all counts but the judges in the Tanzanian town of Arusha did not believe him.
'Not a good fighter'
People who knew him at the time describe him as timid and not terribly intelligent.
"He couldn't look you in the eye for very long and he couldn't stand his ground and argue," one acquaintance, who was unstinting in his praise of some of Bizimungu's fellow officers, told the BBC.
"He wasn't even a terribly good fighter," he added.
What made his career was a blind devotion to the cause of the late Juvenal Habyarimana's regime.
Mr Habyarimana was killed when his plane was shot down in April 1994, sparking the genocide.
Bizimungu was born in Byumba in northern Rwanda, close to the home of his mentor Felicien Kabuga, the alleged financier of the genocide, who remains at large.
Mr Kabuga introduced Bizimungu into Mr Habyarimana's inner circle and made his career.
The young officer was promoted very quickly.
"When he received the rank of general, his peers were still lieutenant colonels," said one officer.
Bizimungu was named chief of staff with the backing of Theoneste Bagosora, the mastermind of the genocide sentenced to life in prison by the International Criminal Tribunal for Rwanda in 2008.
For the first 10 days of the genocide, Marcel Gatsinzi, a moderate, chosen by his fellow officers, was chief of staff.
One week into the slaughter, Mr Gatsinzi was ousted.
Bagosora replaced him with Bizimungu, the man he had favoured for the post all along.
Fled
Bizimungu was apparently smart enough to understand that continuing support for his regime from France depended on disguising genocide as "civilian self-defence" or "pacification".
This concern led him to condemn the 1 May killing of more than 30 orphans and Red Cross workers in the southern town of Butare.
But the killing continued under a different name.
Meanwhile, the mainly Tutsi Rwandan Patriotic Front rebel fighters gained more and more ground, taking Kigali on 4 July putting an end to the genocide.
By then, more than one million Rwandan Hutus had crossed into the Democratic Republic of Congo, then called Zaire, urged to flee by Bizimungu's officers.
Two weeks later, Bizimungu, in the Congolese town of Goma himself, declared: "The RPF will rule over a desert."
But 17 years on, the RPF and their leader Paul Kagame remain in power in Kigali, while Bizimungu is starting a long prison sentence.