Rwanda's Paul Kagame hits back at Twitter critic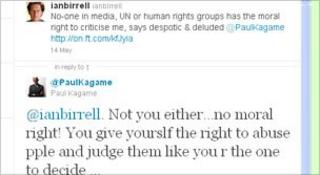 A Twitter row over media freedom shows how "thin-skinned" Rwandan leader Paul Kagame is on the issue, the UK journalist involved has told the BBC.
But Ian Birrell gave Mr Kagame "full credit" for engaging in the debate.
Mr Birrell had tweeted that Rwanda's leader was "despotic" and "deluded" for saying the media, UN and human rights groups had no right to criticise him.
President Kagame, who came to power in 1994 ending the genocide, fired back with 14 tweets defending himself.
The Rwandan government has defended its tough media laws, pointing to the role of "hate media" ahead of the genocide.
Mr Kagame, who has recently been accused of intolerance and harassing anyone who criticises him, made the original statement in an interview with the UK Financial Times newspaper, which Mr Birrell tweeted about on Saturday.
It drew an immediate rebuke from @PaulKagame, the Rwandan president's official Twitter account.
"Not you either...no moral right! You give yourslf the right to abuse pple and judge them like you r the one to decide ..." he said.
Rwanda's Foreign Minisiter Louise Mushikiwabo was also drawn into the row.
"Ian what so complicated? can critic but u hav no 'moral' (key word) right: PK saved lives, built country n gave hope," she said.
'Different' at home
Mr Birrell, who was the deputy editor of the UK Independent newspaper, told the BBC's Focus on Africa programme, his weekend debate with a head of state had taken him by surprise.
"He's quite interesting in the way he does engage with foreign media and take on a lot of what people are saying but within his own borders there seems to be a very very different approach," he said.
"I also think it was so thin-skinned that when I tweeted one little comment that he's immediately coming back at me."
Rwanda's Information Minister Protais Musoni told the BBC there was nothing unusual in the president replying to a tweet, as he responded to comments made by ordinary Rwandans too.
"Our leader has nothing to hide and has to reply," he said.
"Anyone who tweets to him, he replies back and as you know he has monthly press briefings."
Mr Musoni said the media, the UN and human rights groups were in Rwanda at the time of the genocide in 1994 when some 800,000 mainly Tutsis and moderate Hutus were killed in 100 days, but "did nothing".
"I think nobody has right to criticise because what we're doing and what the population can bear out shows that there's a political line that's proper for the development of this country," he said.
Earlier this year, two Rwandan journalists working for the Umurabyo newspaper were sent to prison after being found guilty of stirring up ethnic divisions.
In January, four former top officials who have fallen out with Mr Kagame and gone into exile were sentenced in absentia to long jail terms for threatening state security and promoting ethnic divisions.